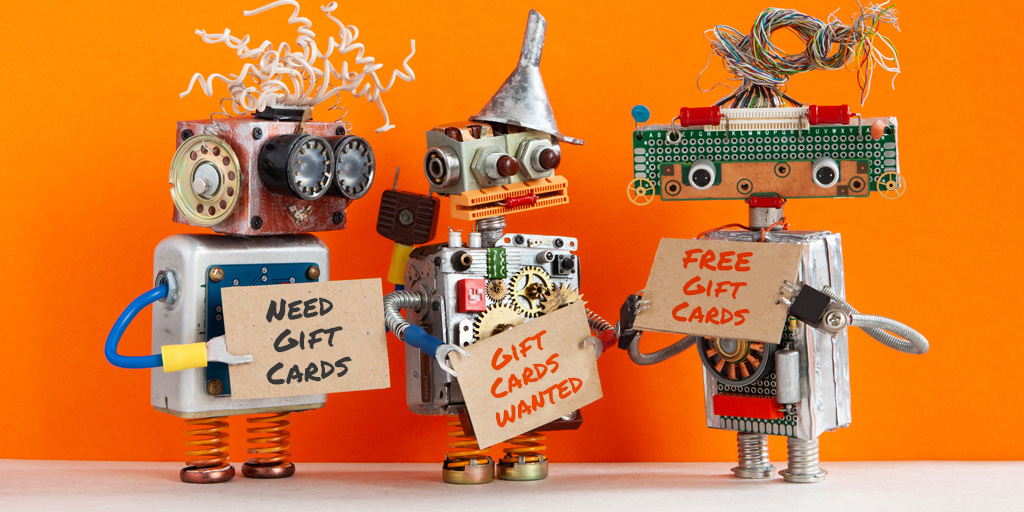 Amazon.com Gift Cards: 21 Electrifying Ways to Score Free
Amazon.com gift cards: score them for free the legit way.
The web's crawling with promises of free Amazon eGift cards. Many of these promises fall flat. Yet with so much noise on the Internet, it can be hard to spot real vs fake.
But there are actual free, legitimate Amazon.com gift cards there for the taking. And when you consider that Amazon sells just about everything, if you're not claiming free Amazon.com gift cards you're leaving cash on the table. Even if you don't shop at Amazon yourself, Amazon.com gift cards still make a great gift.  
Check out these 20 free, and often surprising, ways to get free Amazon.com gift cards, Amazon coupons, and discounts off of your future purchases on www.Amazon.com.  
1. Answer Surveys on InboxDollars.
InboxDollars connects their members, consumers, with brands that want consumer feedback on their products and services. Take surveys and get paid for your opinions. Most surveys pay about $0.25 to $5.00. Right away, you'll earn a free $5 bonus in your account to get started. When cashing out, you'll receive funds via PayPal. You can cash out those PayPal rewards as Amazon.com gift cards, or shop www.Amazon.com with your PayPal Cash Card. 
2. Reload Your Amazon Gift Card with $100 or More, Get $5.
Reload at least $100 on your Amazon gift card and get a $5 credit. So if you reload $100 onto your gift card, you'll have an available Amazon account balance of $105. $5 is the reward offered for your first time reloading your Amazon.com gift card. That's like saving 5% off a future purchase, and you can apply the savings to items and brands that never go on sale.  
From time to time, Amazon gift cards even go on sale. Check out daily Amazon promo codes to see what's on special or if the cards are featured.
To add extra funds or check your Amazon gift card balance:
1. Log in to your Amazon account.
2. Enter the amount you want to add to your gift card balance.
3. Enter your credit card or payment information, then select "Continue".
4. Select "Place Your Order".
3. Earn 2% Back Every Time You Reload.
Amazon's 2% reload rewards lets you earn an extra 2% balance on your Amazon gift card every time you reload your card using your checking account. For example, if you add $100 to your Amazon account balance from your checking account, Amazon will put $102 on the gift card. 
4. Rent Out Your Phone's Lock Screen.
Your phone's locked screen is valuable real estate for advertisers. Many Google Play Store apps will pay you for placing ads on that screen space. 
S'more App 
Slidejoy
ScreenLift
At present, there aren't any similar iTunes apps we're aware of for your Apple device. But there are plenty of other great iOS-only apps for your Apple phone. If you do try a paid app, it's a great way to use your iTunes gift card. 
5. Shop Online with MyPoints.
MyPoints is an online shopping rewards program. Earn points when you make online purchases from your favorite brands and retailers, and redeem points for Amazon gift cards. 
For example, if you shop at Macy's, visit their website through a MyPoints.com link. If you spent $100 there, you'd earn 1,200 points, enough for a $7 Amazon.com gift card. That's just one visit. Make all your online purchases through MyPoints, and the eGift card rewards can really add up.   
6. Discover New Deals on Swagbucks.
Discover the latest in-store and online deals on Swagbucks. In exchange for exploring brands' latest promotions (like visiting websites or signing up for newsletters) you'll earn rewards called SB.  Redeem SB for free Amazon gift cards. 
7. Print Coupons on ShopAtHome.
Print free grocery coupons on ShopAtHome.  You'll earn 1-cent for every coupon you print, up to 50 per day. And 10-cents for each printable coupon you redeem at your local supermarket. Print coupons every day for the next couple weeks, and redeem your earnings for a free $10 Amazon.com gift card. 
$10 might not be a huge amount, but you can hoard Amazon gift cards. Amazon.com gift cards have no expiration date, and you can combine multiple gift cards in your account towards a larger future purchase.
8. Watch Videos.
On InboxDollars, you can get paid to watch online videos. Videos are short clips on a variety of topics like politics, celebrity news, and technology. They generally featured sponsored (advertising) content. You can generally earn 5-cents to 50-cents a day watching video content. Not a lot, but it all adds up. After all, Google, YouTube, and Facebook don't pay you anything for watching videos. 
Watch InboxDollars videos from your smartphone (mobile web or app), desktop, or tablet. Cash out your earnings for free Amazon.com gift cards. 
9. Play Online Arcade Games.
Earn cash rewards for playing online arcade games like Klondike Solitaire, Wheel of Fortune, Mahjong, Candy Jam, Sudoku, Chess, and more. Redeem your cash rewards for Amazon.com gift cards. 
10. Search the Web.
You can earn rewards for searching the web. Search the web naturally, earn money or points in your account as you go. Here are a few options for earning Amazon.com gift cards for searching the web.
InboxDollars
InstaGC
Microsoft Rewards 
11. Scan Your Receipts.
Don't trash your receipts. That's free cash, or rather free Amazon.com gift cards, you're throwing out. There are a number of apps and reward programs that will pay you for sending them a picture of your receipt. 
Receipt Hog
Fetch Rewards
Ibotta
Swagbucks 
You'll earn gift cards and other rewards for submitting the receipt itself, and you'll also earn rewards when you purchase featured items or eligible goods. For example, there may be a $1.00 cash bonus for buying a certain brand of cookies or household cleaner. Additionally, you can often earn bonuses for linking your credit card to your account.  
12. Complete Random Online Tasks.
Sign up for Amazon Mechanical Turk. You can get paid to complete online tasks and micro-tasks for companies. Some of these activities include labeling images, transcribing receipts, and answering short polls. When you cash out, your earnings will be paid to you with a bank account transfer or an Amazon.com gift card. 
13. Trade-in Your Old Movies, Electronics, Books, and Games.
The Amazon Trade-In Program lets you trade in eligible used items, like kindle books, Echo devices, electronics, video games, textbooks, and more in exchange for free Amazon.com gift cards. It's easy to submit a trade-in, and you receive an upfront quote and free shipping. 
14. Cash in Your Credit Card Rewards.
A number of credit card reward programs enable you to redeem your reward points or dollars directly on Amazon. 
Within your account on Amazon, you can view your credit card reward balance that you can apply towards future purchases on www.amazon.com. 
Presently, you can't use an Amazon gift card or rewards balance in Whole Foods store locations. But you can shop Whole Foods Market goods on www.amazon.com and use your Amazon account gift card rewards.
15. Check-In at Local Stores.
With CheckPoints and Shopkick, you can earn rewards just for checking in from your smartphone at local stores. Redeem your check-in rewards for free Amazon.com gift cards.
16. Watch TV.
iRazoo TV lets you earn points for each video that you watch. Redeem your points for an Amazon gift card. 
17. Download and Test Apps.
You can get paid for testing websites and apps online. Companies need users to make sure their website and apps are working glitch-free.   
Testbirds
UserZoom
User Testing
18. Lug Your Coin Jar to Coinstar.
You can cash in your coin jar at Coinstar for free Amazon rewards. By opting for a free gift card payment, you keep every penny that you cash in. There's no service fee for cashing out. 
19. Cash in Your Unwanted Gift Cards.
According to a finance report on CNBC, $3 billion in gift cards go unused each year. You've probably received a gift card or two that you have no interest in using.  Don't lose that gift card or let it go to waste. You can sell your unwanted gift card for up to 92% of the card's face value. Check out these gift card marketplaces to buy and sell gift cards. 
CardCash
ClipKard
Cardpool
Gift Card Granny
Raise
These marketplaces can also be a good place to buy discounted Amazon.com gift cards. Because of the popularity of Amazon eGift cards, the savings usually are around 2%. But considering you can buy basically anything at www.Amazon.com, any savings are good savings.    
20. Receive Your Prime Deliveries Later.
Amazon Prime Members, opt for FREE No-Rush Shipping at checkout and you can earn Amazon rewards. Instead of getting your Prime delivery in 1-2 days, select FREE No-Rush Shipping and your order will come within 6 business days. 
You can use your Amazon No-Rush rewards towards movies and TV shows, eBooks for Kindle, groceries on Amazon Fresh, and for 2-hour deliveries with Prime Now. 
21. Get an Amazon Prime Membership.
If you don't already have Amazon Prime membership, joining will help you unlock great savings on Amazon. 
While you won't get Amazon.com gift cards for joining, you'll get other perks that can add up to hundreds of dollars a year or more in savings.  
-Free same-day or two-day shipping on eligible goods and items. 
-Unlimited streaming of movies & TV shows on Prime Video.
-Unlimited and ad-free streaming of over 2 million songs on Prime Music. 
-Exclusive members-only savings in Whole Foods stores. 
-Free delivery on a wide selection of grocery and household items, with 1-hour and 2-hour delivery options available in many regions. 
-Prime Wardrobe - try before you buy for select clothing items. Free shipping both ways.
-Free No-Rush Shipping. Opportunity to decline two-day or same-day shipping in order to earn rewards and Amazon account credits for eligible goods on future purchases. 
-Extra savings and free gifts with Amazon.com wedding, baby, and other registries. 
Read more about the complete terms of Amazon Prime membership.
After you've earned your free gift cards, you can add them to your Amazon account to redeem.
To Redeem Your Amazon Gift Card:
1. Go to www.Amazon.com and sign in to your Amazon account.
2. Select "Your Account".
3. Select "Apply a Gift Card to Your Account".
4. Enter your claim code and select "Apply to Your Balance".
Most offer earnings will be credited to the member's InboxDollars® account within a few business days of offer completion. Some offers may credit immediately, while others may take up to 30 days to credit. Members should read and comply with all requirements of an offer to ensure timely credit.
InboxDollars® credits members for completing offers based on information we receive from our Advertisers. Thusly, the Advertiser has the final say in whether or not a member is credited for completing an offer. For more information, please read full terms of CASH OFFER CREDITING.