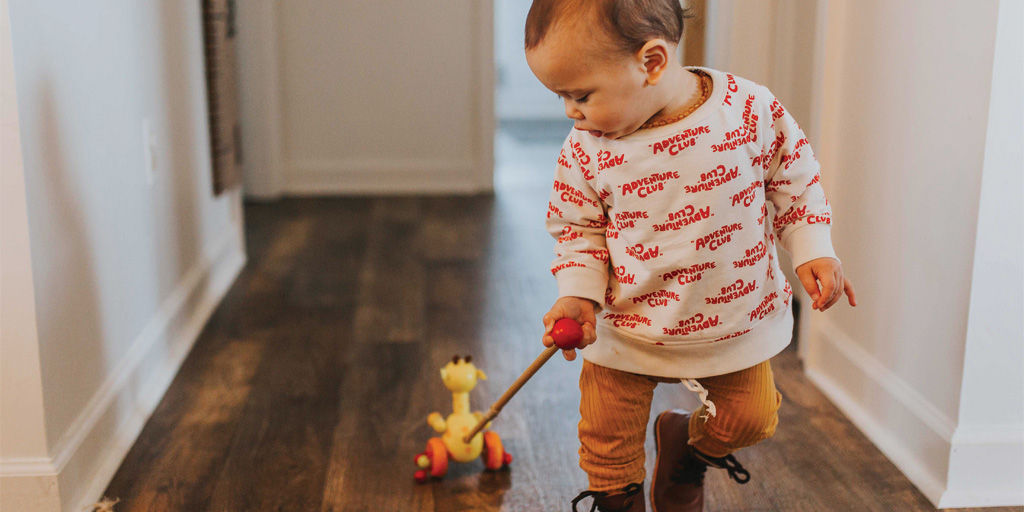 Stylish Kids Clothes
Just in Time for Back to School: Top 10 Cute Clothing Brands for Babies, Toddlers, and Boys and Girls
Updated July 12, 2021
As a new mom (toddler in tow and another on the way), it's hard to resist all the cute baby and toddler clothes. And I've even (over)stocked up on larger big kid clothing sizes. 
But as a new mom, I quickly discovered that Carter's and Oshkosh B'Gosh (which are the same company now anyway) brands dominate the market. They have lots of cute clothes in bright colors and pastel hues.
And they are everywhere. It seems like every department store (Macy's, Kohl's JCPenney, and Target) carries: a) their own brand labels and b) an assortment of Carter's and Oshkosh B'Gosh. That's it. Carter's and Oshkosh crush the market. The clothes are adorable and affordable, but sometimes you want to change things up. It can be hard to find other options, but here's a list of 10 other children's clothing brands to know. 
For some of these, the price tags are hefty. But, you can always find sales, clearance deals, special promos, and coupons and cash back shopping rebates. And you can find boy clothes that's actually cute from any of these hip kids' clothing brands. Adorable clothing isn't just for baby girls! 
1. Mini Boden
Price range: $-$$$
Sizing: True to size 
Where to buy: Mini Boden website, Nordstrom
Discount retailers that carry: Nordstrom Rack, TJ Maxx, Marshalls, Rue La La, 6pm, Mini Boden Outlet Store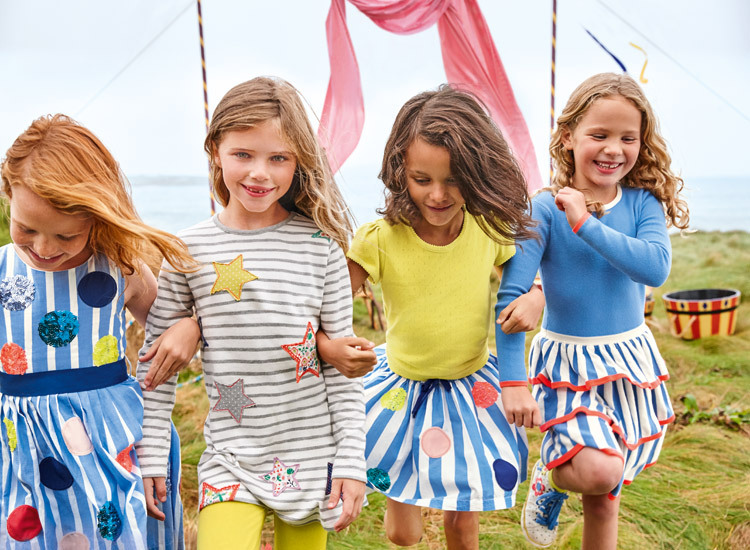 Mini Boden kids clothing comes in a range of bright colors that you can easily mix and match. You get clean, British style lines with a touch of funky notes like bits of neon, pom pom trim, and and colorful appliqués. 
They have sizes and styles for baby girls and baby boys, toddlers, children, and adults. If family-coordinating outfits is your thing, there's definitely plenty of options.
Build to last, Mini Boden pieces are passed down to younger siblings or resold in Buy Sell Trade groups on Facebook and consignments stores. I've been the third, fourth, or even fifth generation owner of many cute pinafores and other stylish pieces. 
Tip: Prices are steep, but with clearance deals and sales (there's always a Mini Boden coupon or promo code), you can snag brand pieces for $10 or less on Mini Boden's website. Memorial Day, Black Friday, and post-Christmas are the best times to score a steal, but any time of the year is worth checking out their clearance items.   
Additional savings: Find promo codes, special discounts, and cash back rebates on the Boden coupon page. 
2. Hanna Andersson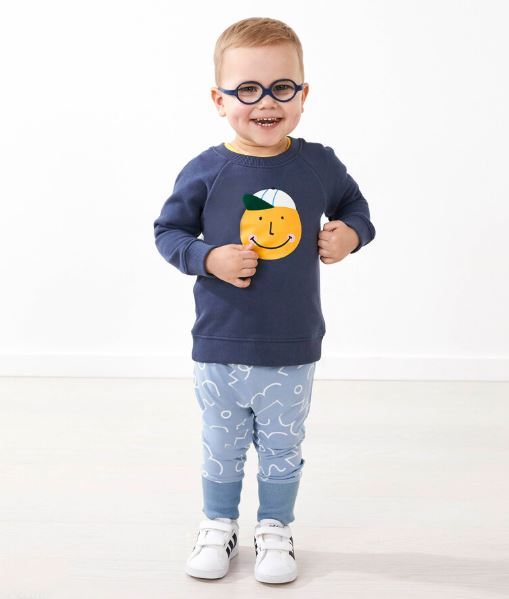 Price range: $-$$$
Sizing: Slightly large 
Where to buy: HannaAndersson website, standalone Hanna Andersson stores, Amazon
Discount retailers that carry: TJ Maxx, Marshalls, Hanna Andersson outlet stores
Hanna Andersson might be best known for its matching family PJ's and cute long johns and short johns for babies and kids.Their brightly patterned, Swedish-inspired designs are iconic. Made of high-quality, organic cotton, Hanna Andersson pieces are thick, durable, and of true hand-me-down quality. 
Moms love Hanna Andersson and the brand has a cult following.
A lot of their newborn and baby clothing, like rompers, onesies, leggings, and wiggle pants, are unisex and can easily be worn by baby girls and baby boys.
Similar to Mini Boden, Hanna Andersson has a cult following who are obsessed with the brand's cuteness and quality. 
Tip: With their post-Christmas clearance sales, I've scored brand new dresses and pajama rompers for $5 - $7 a piece. On top of that, when you sign up for the newsletter (as a new customer) you can save 20% off of your first order. Even with on-sale or clearance items. 
Additional savings: Find promo codes, special discounts, and cash back rebates on the Hanna Andersson coupon page. 
3. Tea Collection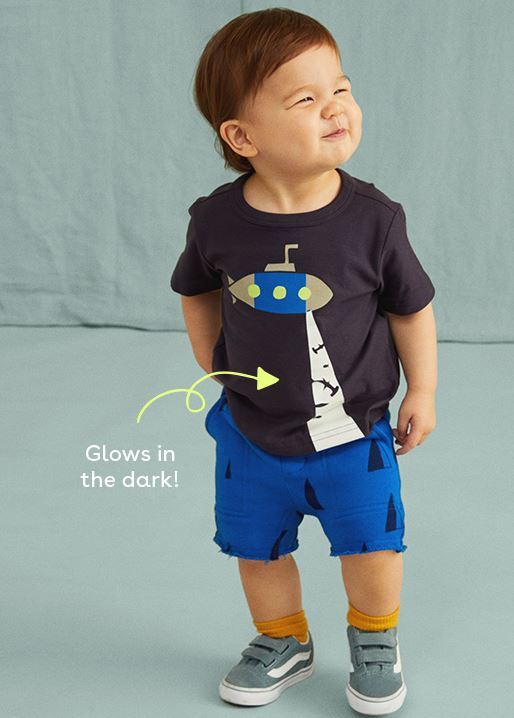 Price range: $$-$$$
Sizing: Runs large 
Where to buy: Tea Collection website, bubuyBaby, Amazon, Nordstrom
Discount retailers that carry: Nordstrom Rack, HauteLook
Extremely well-made (definite hand-me-down quality) with global designs that have a playful, international spin. You'll find patterns of tigers, pho, Southeast Asian cuisine, citrus trees, and other cute and quirky nods to Equatorial culture. 
Tea collection features clothing for newborns to size 16 for boys and girls. While the clothing is perhaps more gender specific than other brands, many of the pieces are unisex. The baby girl dressers, leggings, and jumpsuits are swoon-worthy.
In my experience, the brand runs large. My daughter (nearly 2 who wears 2T in most brands) can still fit into their 12-18M and 18-24M clothes. 
Tip: It's often expensive to shop Tea Collection directly, even with occasional sales and clearance markdowns. While it's always worth it to check out their final sale prices, I've had better luck at Nordstrom (looking for the red tag markdowns) and Nordstrom Rack.
Additional savings: Find promo codes, special discounts, and cash back rebates when shopping for discounted Tea Collection at Nordstrom Rack on the Nordstrom Rack coupon page. 
4. H&M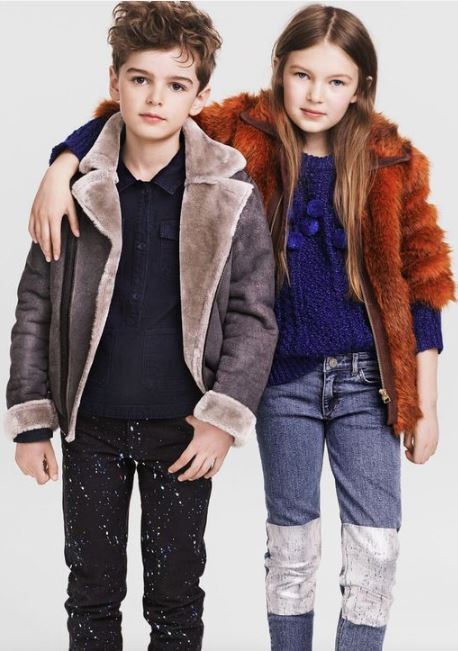 Price Range: $-$$
Sizing: Runs large
Where to buy: H&M website, H&M stores
With 593 store locations across the United States, there's a good chance you'll find an H&M near you. 
H&M has loads of cute, stylish, on-trend apparel for babies, toddlers, and kids in an assortment of fabrics (including wool or cashmere) and in varying price ranges. 
I tend to think that the baby girls clothing is cuter than the baby boy selection, but plenty of great range all a round with rompers, onesies, bibs, leggings, one-pieces, jumpsuits, denim, hoodies, swimwear, mittens, and everything else baby you can think of.
Tip: Shop the H&M website. The selection is much wider, with maybe 4 to 5x more merchandise (if not more). You'll find more designer collaboration pieces and more clothing from their eco-conscious line. Additionally, the website features many online-only pieces. 
Additional savings: Use an H&M coupon code to save an extra 20% to 60% off your purchase.
5. JoJo Maman Bébé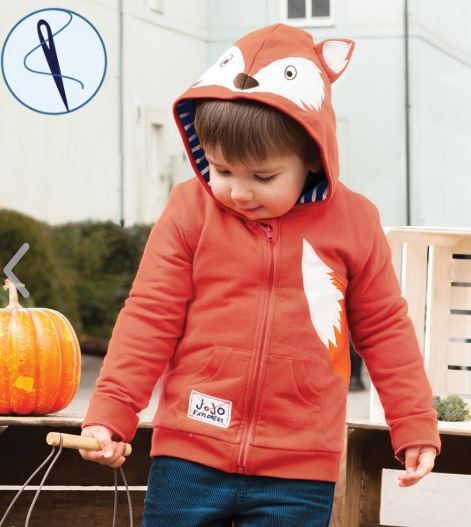 Price range: $-$$$
Sizing: Runs large
Where to buy: JoJo Maman Bébé website, JoJo Maman Bébé standalone stores
Where to buy discounted: Nordstrom Rack, JoJo Maman Bébé outlet stores
JoJo Maman Bébé features quirky, bright-colored clothing for babies, toddlers, and kids. Think Breton stripes, boatneck colors, button embellishment, and lots of playfulness. 
While the prices can run steep, there are frequent markdowns where you can buy lined cords or cute dinosaur pinafores for as cheap $6 or $7. I always find good stuff when I check out the redlines (however it's not always in the size I need).
I especially love their jackets, mittens, and outerwear. They have a fantastic range of rain and puddle gear, which makes sense given the store's British roots.
Tip: If you see something you like in the size you want at a bargain price (i.e. below $10), act immediately. Do not sit on it. An hour later it will be gone. (It could even get snatched up while you're still browsing, unfortunately.)  
Additional savings: Use a JoJo Maman Bebe coupon code to save an extra 15% or more off your total purchase and get free shipping codes. 
6. Primary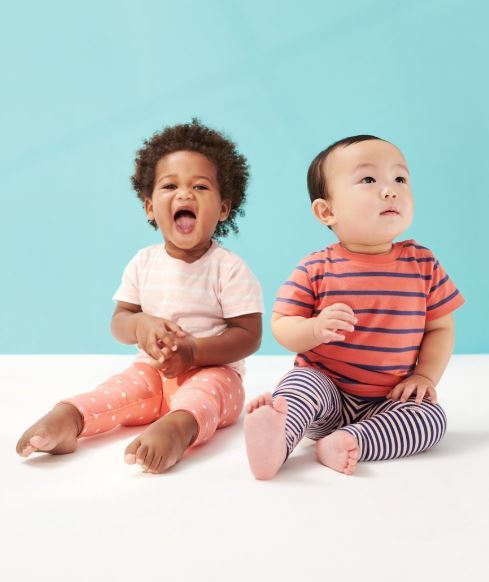 Sizing: Runs slightly large 
Price range: $-$$
Where to buy: primary.com
Primary offers comfy, cotton staples (PJ's, shorts, dresses, hoodies, onesies, T-shirts, leggings, swimsuits, coats, jackets, denim, and pants) in brightly colored solid, striped, gingham, or polka-dotted patterns. 
Items I've purchased on Primary are extremely well made and durable, and survive my husband's vigorous washings quite well. (He loves the laundry machine's hot water, heavy duty cycles.) 
Primary sizes range from 0-3 months (no newborn) to 12Y (12 years). Primary doesn't distinguish between boy clothes and girl clothes; everything is designed to be bright, playful, and gender neutral.
Prices are mostly under $30, but there are plenty of 30% to 50% off sales throughout the year. Additionally, you can always find clearance items for around $6 or less.  
Additional savings: Use a Primary.com coupon code to save an extra 15% or more off your total purchase and get free shipping codes. 
7. Polarn O. Pyret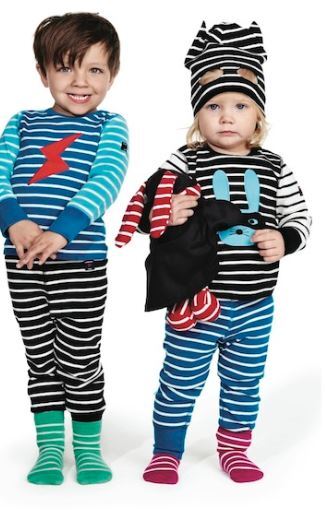 Price Range: $$-$$$
Sizing: Runs very large 
Where to Buy: Polarn O. Pyret website
The Swedish brand is known for making cute, eco-conscious clothes of exceptionally durable quality. The clothing patterns are charming, incorporating different appliques and textures (like hedgehogs on scooters and crowned mice in hot air balloons).
I discovered the brand when I was looking for onesies and tops with kimono style openings, and fell in love with the adorable patterns and designs. The prices can run extremely steep (north of $50), but I regularly find pieces in store for $12-$17 or less when looking for markdowns. 
Many of their pieces are designed to be gender, especially among the baby bibs, jumpsuits, onesies, swaddles, and rompers.
Tip: There is a PO.P. online outlet store that pops up a couple of times a year. That's a great time to snag pieces for under $10. Also, Polarn O. Pyret sells some truly unique Disney pieces that throwback to vintage films like Lady in the Tramp, Jungle Book, Bambi, and Chip 'n' Dale. 
Additional savings: Use Polarn O Pyret coupons to get free shipping, promo codes, and exclusive savings. 
8. Zara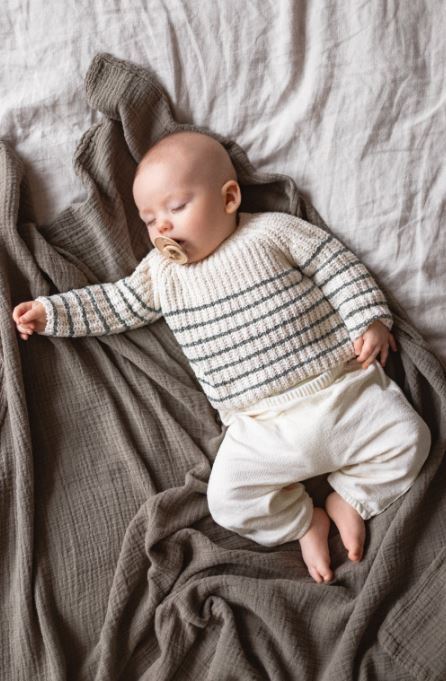 Sizing: Runs slightly large 
Pricing: $-$$
Where to buy: Zara website, Zara stores
Discount retailers that carry: TJ Maxx, Marshalls
Zara kids clothes are both pull-at-your-heartstrings achingly cute and incredibly fashion-forward. They incorporate interesting details, textures, and cuts, and styles more reminiscent of adult lines with the boat neck collars and high waist trousers. 
Check out Zara.com. There's far more merchandise online than in-store, with many online-only pieces. Their colorblock pants, leggings, and denim are extremely durable and soft (you'll want to pet your kids legs), and the drawstring waist gives them a unisex feel. 
And boys of moms, I think that Zara's baby boy clothes are cuter than their baby girl clothes. (Not that it's stopped me from stocking up for my toddler girl.)
Tip: Unlike many other brands and stores, Zara has very infrequent sales. At any given time, you'll find quite a few markdowns online where you find cute things for $4 to $17. Act quickly though if you see a marked down item you like. It can sell out while you're still shopping. 
Additional savings: Look for Zara coupons on Coupon Cabin, Slick Deals, or RetailMeNot for additional price reductions. 
9. L'ovedbaby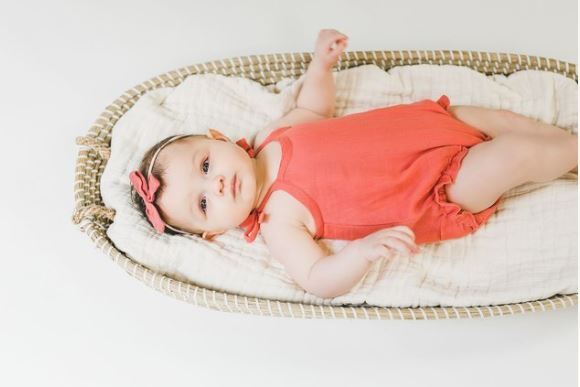 Sizing: Runs slightly large
Pricing: $-$$$
Where to buy: L'ovedbaby website, Von Maur, Spearmint Love, Nordstrom, bubuyBABY
L'ovedbaby offers cozy, cute basics for babies and toddlers, with some pieces for older children and for adults. All clothing is sourced from 100% organic cotton, and each season they offer several new themed collections like Tribal, Under the Sea, Muslin, or Feeling Sketchy. 
New arrivals are less frequent on L'ovedbaby than with other brands. They have a fall/winter collection and a spring/summer collection. Yet their pieces really are timeless, and I especially love their hats and headbands.
And although the brand is expensive at full-price, the clothing can be passed down to sibling after sibling making it excellent quality in the long-run.
Additionally, on Big-Find Thursday, you can find items for $5-$10 when you shop products from previous collections. 
Additional savings: Look for L'ovedbaby coupon codes on DealSpotr, Coupon Annie, or Coupon Birds. 
10. Janie and Jack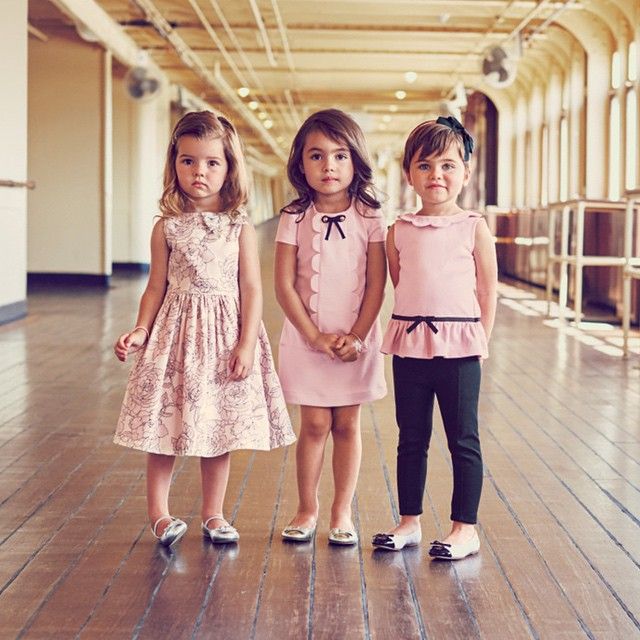 Sizing: True to size
Pricing: $-$$$ 
Where to buy: Janie and Jack website, Janie and Jack stores, Saks Fifth Avenue
Discount retailers that carry: Janie and Jack outlet stores, 6pm
Janie and Jack makes keepsake-quality clothing: adorable colors and cute prints made for serious family time moments like vacations or family gatherings. While they do have more casual basics, they're known for pint-sized replications of adult "looks" including mini handbags, high-waisted denim pants, A-line dresses, linen chinos, and stylish rompers and capris. 
While full-price (and even sale) items are steep, check out the clearance racks for the best deals and also their outlet store locations. I found my baby girl a taffeta dress she wore last Christmas for only $5.97.   
Additional savings: Find promo codes, special discounts, and cash back rebates on the Janie and Jack coupon page. 
Other Cute Kids Clothes Brands to Swoon Over
This is just a drop in the hat when it comes to stylish kids clothes. There are hundreds of other great brands to discover. And there are plenty of brands that have trendy, stylish clothing for boys. There are plenty of great boy clothing brands to check out. More and more, children clothing styles are trending gender neutral which helps the budget since gender neutral clothing is easier to pass down. Minimalist silhouettes, sleek lines, logo tees, and earth-tone color palettes in. 
Final Thoughts on Cute Kids Clothing from Stylish, High-End Brands
While you may get sticker shock over seeing the regular-price tags for many of the featured brands on this list, in the long run I think that these particular high-end kids' clothing brands are a better value and more affordable. 
You can pass these down from kid to kid to kid. They are built to last. 

You'll buy fewer pieces and take better care of them. Cheap kids clothing seems disposable and stained or ripped garments are often tossed. With higher end items, they don't break down as easily and you're more likely to work to treat stains or mend  rips and tears. 

Along those lines, it's more environmentally friendly than buying fast fashion.

With fewer pieces, you'll have less laundry. 

You can find these pieces in excellent used condition in kids consignment stores and Once Upon A Child store locations, often for cheaper prices than brand new Target, Walmart, or Carter's clothing. 
Facebook Buy Sell Trade groups, Poshmark, Kidizen, and Mercari are a great place to buy these brands gently used, and the resale value is amazing. I've bought my daughter plenty of clothing items from these sources, and then after resold clothes for the same price (or even more!) than I got them for. 
Find Black Friday deals on high-end kids clothing brands. Black Friday sales tend to offer the best prices you'll see all year for current, in-season, on-trend merchandise. 
Check out other ways that moms can shop smart on a budget for clothing and these great ways to get free diapers and other baby freebies for your little ones. 
Most offer earnings will be credited to the member's InboxDollars® account within a few business days of offer completion. Some offers may credit immediately, while others may take up to 30 days to credit. Members should read and comply with all requirements of an offer to ensure timely credit.
InboxDollars® credits members for completing offers based on information we receive from our Advertisers. Thusly, the Advertiser has the final say in whether or not a member is credited for completing an offer. For more information, please read full terms of CASH OFFER CREDITING.