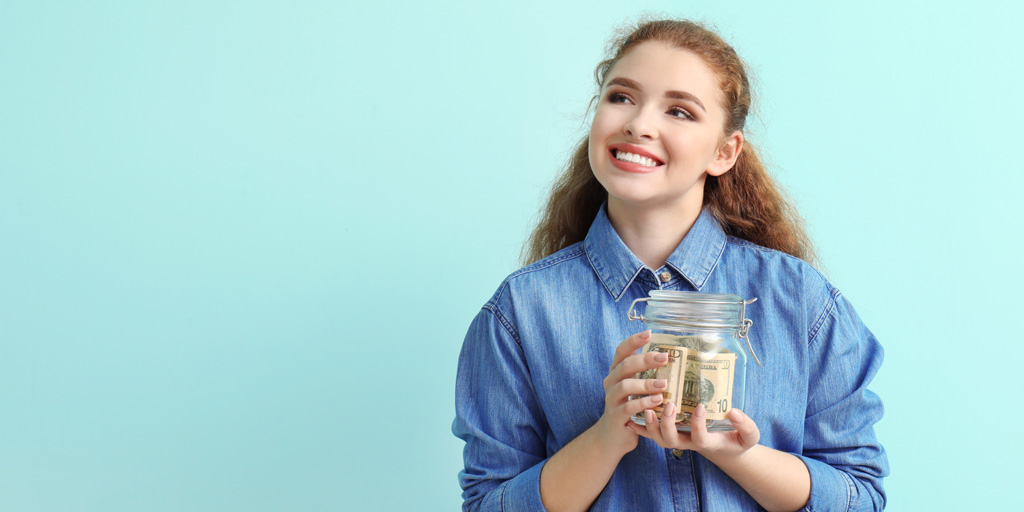 7 Smart Money Moves You Should Make Today
About 5 years ago, I hated thinking about money. With student loans, medical bills, and credit card debt, my finances were a mess. I had a ho-hum bank account (barely any interest, tons of bank fees) and I didn't even want to think about my credit score, let alone look at it.
When my old clunker finally broke down and I had to get a new car, that's when I was forced to confront my financial reality. Applying for an auto loan was a sobering process, and being offered a double-digit interest rate was the wake-up call.
There were some simple money moves I made that helped me right track my finances. And even today, with my credit score nearly 200 points higher, I am still always on the lookout for new or better ways to simplify my finances.
Here are seven simple steps you can to make the most of your finances.
1. Clean Up Your Energy Habits
When you sign up to become a clean energy customer with Arcadia, you'll save both money on your electric bill and the environment.  Pretty great, huh?
Arcadia is the first nationwide energy service giving renters and homeowners access to clean energy and savings.  Customers decide what kind of energy they want to support: solar, wind, or other renewable options.
2. Sign up with Mint Mobile
Get an affordable mobile plan!  Mint Mobile offers plans starting at $15 a month! You get to choose from a three, six, or 12-month service.
Sign up for Mint Mobile through InboxDollars and earn a $10.00 reward when you stay a customer with Mint Mobile for at least 30 days.
3. Get Domino's Pizza Coupons
Simply sign up for Domino's coupons and earn $0.10 in your InboxDollars along with 20% off your next online order. Get the newest coupons and saving offers to your email. Now you'll never miss out on discounted pizza!
4. Get Started with Stash
With Stash, now you don't have to be a millionaire to make money in the stock market! Stash is for people who want to take charge of their financial futures but need a helping hand to get them started and to see them through their journey. Stash is also for the millions of Americans that have been overcharged and underserved by traditional banks, brokers, and investment advisors.
Stash offers options for customers to invest for their short and long-term goals, from saving for a home to saving for retirement. Customers can open an investment account and choose from over 70 curated stocks and investments that reflect their goals, interests, and personal beliefs. Stash teaches new investors the core principles of investing and helps them plan with confidence in order to meet their goals. You can actually learn while investing.
And you can also automate: the Auto-Stash (feature) is a simple way to automate your investments. Making small investments on a regular basis is the key to maximize your savings while taking the risk out of trying to time the market.
Start with just $5 – and there is no minimum to start saving! Plus, Stash will add $40 to your account.
 5. Install Green Dot, Earn $2.00
Open a banking account that works for you and with you. Green Dot offers up to 3% cash back on online and mobile purchases like Amazon, Uber, Walmart.com, and more.
You'll also be able to make free cash deposits, no minimum balance required, free ATM withdrawals, and - no overdraft fees, ever. If you thought that was all, you'll also get your paycheck up to 2 days earlier!
There's nothing to lose with Green Dot. Sign up through InboxDollars today and complete your application to earn a $2.00 reward in your InboxDollars account.
6. Do Your Shopping on Kohls.com, Earn Up to 20% Cash Back
Need to replenish your closet and save money? Or holiday and birthday gifts that won't wipe out your wallet? Shop at Kohl's through Swagbucks and earn cash back rebates of up to 20%. (They can range from anywhere from 1% to 10% most days, and go as high as 20% around special sales events and holidays.) 
As a first time buyer at Swagbucks, you can get a $10 bonus, plus you'll save when you use Kohl's Coupons. 
7. Take on a Side Gig
If you have time on your hands, consider working a side job, also known as, a side-gig and earn extra cash on the side. InboxDollars partners with many side gigs like Shipt Shopper, DoorDash Driver, and Uber Eats. The best part is, you'll be able to work on your own time and schedule. Take a look and decide which ones best suit your interest.
Check out this great post on side hustles that can help you earn an extra $5K. Or feeling lazy? Check out our paid videos here.
For more smart money moves, check out these old-school ways to save money.
Most offer earnings will be credited to the member's InboxDollars® account within a few business days of offer completion. Some offers may credit immediately, while others may take up to 30 days to credit. Members should read and comply with all requirements of an offer to ensure timely credit.
InboxDollars® credits members for completing offers based on information we receive from our Advertisers. Thusly, the Advertiser has the final say in whether or not a member is credited for completing an offer. For more information, please read full terms of CASH OFFER CREDITING.