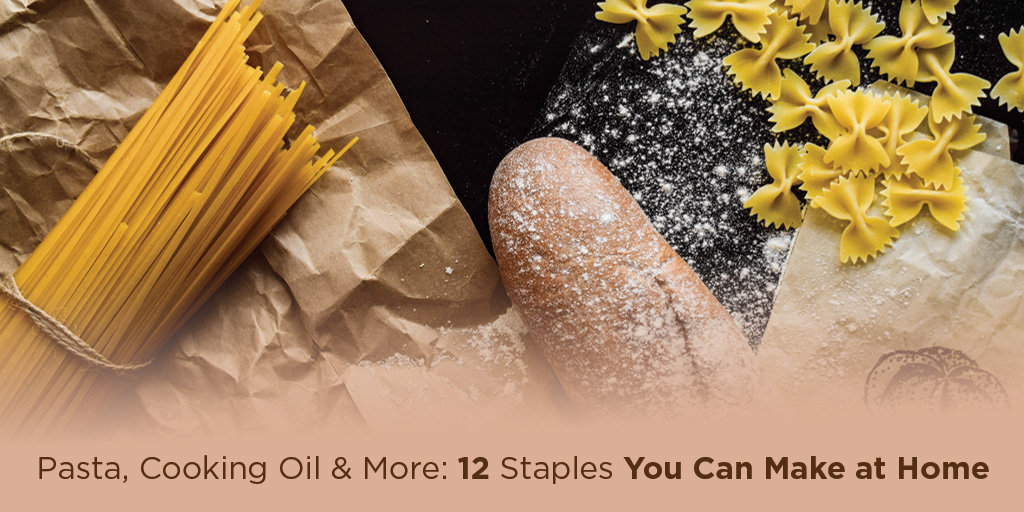 Cooking Oil, Pasta, Bread and More: 12 Kitchen Staples You Can Easily Make at Home
You Can Make or Substitute Your Own Kitchen Pantry Staples: 12 Great Recipes and Tips
Updated May 17, 2021
With the COVID-19 Coronavirus, we've become accustomed to store shelves are sometimes running low on vegetable oil, bread, frozen vegetables, pasta, and other staples. Hoarding. Shipping delays. Reduced hours. And all others kinds of challenges. If you're caught without staples, you can make your own substitutes at home.
Check out these easy ways to substitute or make these 12 kitchen staples.
1. Vegetable Oil Substitutes for Cooking
If you're out of vegetable oil, you can substitute it with another neutral oil like grape seed oil, canola oil, or sunflower oil. Substitute it 1 for 1. (For 1 cup of vegetable oil, substitute it with 1 cup of the other neutral cooking oils.)
2. Vegetable Oil Substitutes for Baking
For baking, you can substitute 1 for 1 either butter, shortening, or melted coconut oil. The taste or texture may be slightly different however.
Or for an even healthier option, you can use applesauce instead. Seriously. I remember my mom using this one when we were kids. It works and it cuts calories, but yes, it will change the taste and texture profile some. Also, I've found that it can make things get mushier quicker if you store at room temperature. I've found it works best to store items with baked applesauce in the fridge.
3. Egg Substitutes
If you've got a recipe that calls for eggs and you don't have any on hand, you can try these common egg substitutes cooking and baking. For some of these replacement items, you may need to mix in water. You'll also need to double-check the ratios, to know how many teaspoons of an item you'll need to substitute for 1 egg.
-Mashed Bananas
-Apple Sauce
-Silken Tofu
-Ground Flax Seed
-Yogurt (Dairy Free or Regular)
-Buttermilk
-Sweet Condensed Milk
-Peanut Butter
-Chia Seed
-Soy Protein
-Agar
4. Make Your Own Vegetable Oil
This will require having an oil press and seeds or nuts with a high oil content. Sunflower seeds, pumpkin seeds, sesame seeds, flax seeds, peanuts, hazelnuts, safflower seed, pecans, almonds, and walnuts will work. Check out the recipe to make your own vegetable oil.
5. Make Your Own Applesauce
If you're looking for an applesauce recipe, it's not hard to make. You can make sugar-free applesauce with this easy 3-item recipe, or try this sweeter version of applesauce with sugar.
6. Make Your Own Pasta
Pasta is another item quickly flying off store shelves amid the Coronavirus pandemic. If you're at the supermarket in-between shipments, you can make your own.
-There's an easy, 4-ingredient pasta recipe you make with just an egg, flour, water, and salt.
-Or check out this recipe for a slightly more gourmet pasta dough. You just need 4 ingredients: eggs, flour, olive oil, and salt.
-As an easy substitute, check your store for wonton skins or wonton wrappers. You can find them in Target, Whole Foods, Walmart, Trader Joe's, and other mainstream supermarkets. These thin sheets of dough are made of flour, egg, and water are basically the same thing as pasta. They are cut square, but you can cut a different shape if you want. Or why not stuff them and make ravioli?
7. Make Your Own Pasta Sauce
Pasta sauce is another easy-to-make staple.
-Tomatoes, water, onions, and garlic are the 3 main ingredients in this easy pasta sauce recipe. Butter is optional, as are spices dried or fresh basil.
-Here's a more buttery version of classic red pasta sauce. The 4 needed ingredients are tomatoes, 1 onion, salt, and butter.
-If you prefer white pasta sauce, check out this easy 3-ingredient white pasta sauce recipe. Butter, milk, and flour are the only listed ingredients.
8. Make Your Own Frozen Vegetables
Frozen vegetables are a hot commodity. You can make and store "frozen vegetables" at home. To do this, you'll need to first blanch or shock the veggies and then store them properly.
-Place vegetables in boiling water and keep them at a consistent boil. Boil until you can insert a sharp knife into a piece of the vegetables without it clinging to the knife.-
-Remove veggies from the boiling water and put them in an ice bath, or large bowl of extremely cold, icy water. Bathe vegetables until they have cooled completely (otherwise you'll have soggy or mushy veggies).
-Allow the vegetables to completely dry. Then, seal the vegetables in an airtight container. Push out as much air as possible. Use heavy-duty freezer bags, and then wrap them in foil or seal them with freezer tape. Sandwich bags are not recommended.
-Put the freezer at its coldest settings. Wait a few hours, and then put the sealed vegetables in the freezer. Do not overload the freezer or it will not get or remain cold enough.
9. Make Your Own Crackers
Crackers are another pantry standby. While they tend to require more than 3-4 ingredients needed to make other food staples, there are plenty of easy cracker recipes.
-Crackers in 20 minutes using 7 ingredients with this easy flatbread cracker recipe.
-5-ingredient crackers with this easy crispy cracker recipe. Flour, sugar, salt, olive oil, and water are the only required ingredients.
-Easy 5-minute recipe for crackers with lots of great spices and seasonings.
10. Make Your Own Peanut Butter
Sweet, versatile, and packed with protein, peanut butter is another kitchen staple you can make yourself.
-Make easy blender peanut butter in 5 minutes using just dry peanuts and salt.
-In this easy recipe variation, you can make peanut butter with just 3 ingredients: peanuts, Kosher salt, and canola or peanut oil.
-For a sweet peanut butter recipe, you'll need just peanuts, salt, honey, and peanut or vegetable oil.
11. Make Your Own Bread
Coronavirus or not, making your own bread is just a fun, homey thing to learn how to do. The web is packed with tons of recipes.
-If you're looking for an easy, traditional loaf, check out this bread recipe. It requires warm water, white sugar, active dry yeast, salt, vegetable oil, and flour.
-You can also make yeast-free bread at home. (Which is great, since I'm not sure if yeast is a big staple item in most people's cupboards.) Check out this no-yeast Irish soda bread recipe. The recipe calls for white flour, whole wheat flour, baking soda, salt, and buttermilk.
-Or try out this brown sugar yeast-free bread recipe. This recipe calls for pantry goods that most of us keep on hand: brown sugar, flour, baking powder, salt, eggs, milk, and vegetable oil.
12. Make Your Own Bagels
While bagels seem more complex, they're actually fairly simple to make. There's a wealth of recipes and resources online. And if you're looking for an easy, basic bagel recipe, you can make them with only 5 ingredients.
Other Ways to Make  Grocery Shopping Less Stressful
In addition to making your own staples at home, here are a few other tips to make your grocery shopping less stressful.
-Look over the free grocery coupons. Chances are that there's 1 or 2 coupon you want to use, and enjoy the added "boost" of saving a little money - and making money. You'll earn cash for each coupon you print (up to 25-cents per day) and 10-cents for each coupon you redeem.
-Go on weekdays (not Monday or Friday) within 30-60 minutes after the store has opened. People tend to show up early to be there when doors open, but showing up just 30 minutes after the store has opened can make a big difference with crowds and won't do much to change the inventory on shelves.
-If you are going out to the store, take advantage of free curbside pickup. Both Target, Walmart, and many national grocer chains offer this service. It enables you to order online and then have your groceries brought to you (and loaded into your car) at a designated pickup location in the parking lot.
-Skip the stores altogether. For a nominal fee, you can have your groceries delivered to your doorstep. (And that fee is usually waived when you meet a certain minimum purchase requirement.)  Services like Shipt  even offer touch-free or contact-free delivery, meaning they just leave your order at your doorstep.
-Make sure you've got the supplies you need at home. While you may not need a bread maker or custom waffle iron, a good frying pan, all-purpose pot, sharp knife, and blender can go a long way.
Join InboxDollars to get even more tips on how to save money and how to earn free PayPal and cash rewards online.
Most offer earnings will be credited to the member's InboxDollars® account within a few business days of offer completion. Some offers may credit immediately, while others may take up to 30 days to credit. Members should read and comply with all requirements of an offer to ensure timely credit.
InboxDollars® credits members for completing offers based on information we receive from our Advertisers. Thusly, the Advertiser has the final say in whether or not a member is credited for completing an offer. For more information, please read full terms of CASH OFFER CREDITING.