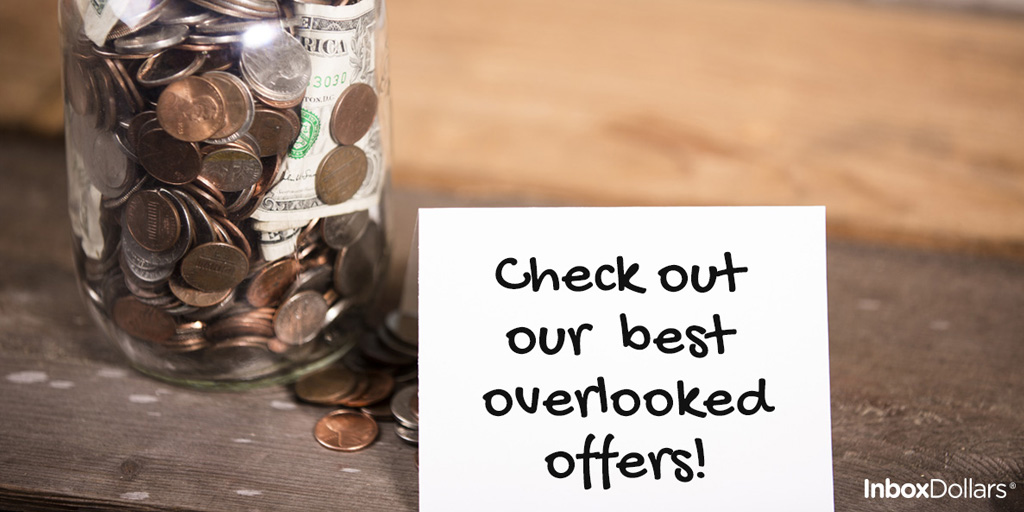 InboxDollars' Best Overlooked Offers
Longtime readers know that not only am I an employee of InboxDollars, I'm also a longtime site member of 5 years.
When I first joined InboxDollars, I completed all of the free "easy" offers. I personally wasn't interested in any of the offers that cost money because I was on InboxDollars to earn money and not spend it.
Occasionally I would check the InboxDollars Offers page and see new ones crop up. But with over a dozen pages of offers to sort through, and offers (and payout amounts) changing all of the time, after a while they would all seem to blur together.
Reasonably sure that many members can probably relate, I decided to write a post highlighting some of our lesser-known offers. These are ones that are often overlooked because they are newer, on back pages, or may have names similar to other offers and be confusing to members.
As you read through the list, you're bound to find an offer or two that you've yet to complete. And even if you think you've already completed the offer, it doesn't hurt to try the link and look at the details. Maybe it actually is something new, or maybe you only completed the offer in part and you can still complete it and get credited.
1.  If you haven't signed up for Big Buck Survey yet, do it now and earn $5.00.
A surprising number of members who do complete offers have not completed this one. While it may not have yet grabbed your attention, sign up now! It's a long-time member favorite and you'll bank $5.00.
2.  Sign up for Stash Invest and earn $40.00.
Have you started investing yet? If not, join millions of Americans learning how to save and invest with Stash Invest.
Start with $5  and Stash will add $5 more to your account. Make sure you sign up with Stash Invest through InboxDollars. You'll earn 40.00 when you make your first deposit to your account.
3. Sign up for discounted Pizza.
Who doesn't love pizza? How about discounted pizza? Sign up for Dominos email  to receive coupons online and other saving offers. Complete this offer through InboxDollars and earn an easy $0.10 in your InboxDollars account along with a 20% off your next order.
4. Get paid earlier and earn $2.00.
How does getting your paycheck 2 days earlier sound to you? You can with Green Dot! Green Dot is the kind of bank that works for you.
You can earn up to 5% cash back on purchases  and get paid earlier through Direct Deposit. All you have to do is sign up for Green Dot through InboxDollars!  Earn a $2.00 bonus reward when you sign up today.
5. Try out grocery samples and earn $1.25.
CoolSavings offers free samples exclusively for InboxDollars members. Sign up for free and earn $1.25.
6. Earn $2.00 to get Mr. Clean samples.
It's as easy as one, two, three! Just sign up through InboxDollars and complete the registration and Mr. Clean samples are on your way. You'll also earn $2.00 just for signing up.
7. Deliver food with DoorDash and earn $30.00.
Need a side gig that works with your schedule? There are no commitments or fees when you decide to deliver with DoorDash.  Sign up through InboxDollars and earn $30 after you make your first delivery and complete your application.
8. Sign up for free cosmetic samples and earn $2.00.
Be the first one to start the buzz about new cosmetic products.  Receive free cosmetic samples from some of your favorite brands. Sign up for Samples & Savings with InboxDollars and earn $2.00.
9. Share if you enjoy Aquafina® or Dasani® and earn $2.00.
Help us decide which is better! Aquafina® or Dasani®? Take a survey and share your opinion. Sign up through InboxDollars and earn $2.00.
10. Update Fido's Toy and Food Stash with Chewy
Where are you buying all your pet products from? If you purchase in store and have not purchased online before, check out Chewy.com. Chewy provides a wide selection of pet food and products!
Some of your in-store purchases may be found cheaper on Chewy.com - so make sure you check them out. Right now, when you make your first purchase through InboxDollars, you'll earn $5.00 in your account.
11. Get free Tide laundry samples and earn $1.00
Sign up now to receive your free sample of Tide laundry detergent. There may be a short consumer survey that you need to complete in order to receive the reward. Complete the Tide offer and receive $1.00.
12.  Sign up for LifePoints
Have your voice heard and join a community of survey takers. With LifePoints, you'll be directly influence top companies all around the world. Sign up through InboxDollars and earn $2.00 when you confirm your registration and take your first initial survey!
13. Sign up for Mint Mobile
Need a mobile plan that works for you and is affordable? Mint Mobile offers plans starting at $15 a month! You get to choose from a three, six, or 12-month service. The more you pay in advance, the cheaper the monthly service becomes.
Sign up for Mint Mobile through InboxDollars and earn a $10.00 reward when you stay a customer with Mint Mobile for at least 30 days.
14. Purchase virus and spyware protection and earn $15.00.
Keep yourself protected from viruses, ransomware, malware, and more on your computer with McAfee Total Protection. Pick and start a subscription through InboxDollars and earn $15.00 in your account.
15. Sign up to receive free McDonald's samples and earn $1.50.
Sign up and complete your free registration to earn the $1.50 reward. This is a limited time payout increase, so act quickly on this one.
16.  Earn $2.00 for delivering groceries.
If you're looking for a side-gig that isn't delivering hot foods, consider delivering groceries instead. Get paid to shop for others by becoming a Shipt Shopper.
Stroll through the grocery isles and help buy and deliver groceries. As a Shipt Shopper, you're your own boss. You get paid weekly and shoppers make an average of $22 an hour.
Become a Shipt Shopper through InboxDollars and earn $2.00.
If you've sifted through InboxDollars' top overlooked offers and you're still looking for more great deals, consider Swagbucks. For example, if you're looking for Disney+ coupons, they have a great bundle deal that members can take advantage of.  You get Disney+, Hulu, and ESPN bundled together for $12.99/month.
And if you're looking to for ways to rake in even more cash, consider one of these side hustle ideas.
Most offer earnings will be credited to the member's InboxDollars® account within a few business days of offer completion. Some offers may credit immediately, while others may take up to 30 days to credit. Members should read and comply with all requirements of an offer to ensure timely credit.
InboxDollars® credits members for completing offers based on information we receive from our Advertisers. Thusly, the Advertiser has the final say in whether or not a member is credited for completing an offer. For more information, please read full terms of CASH OFFER CREDITING.