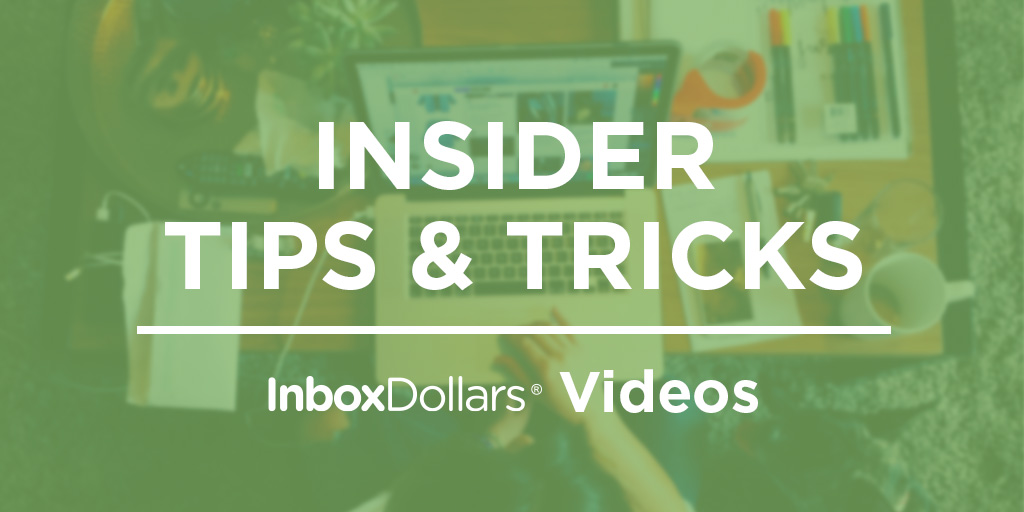 Insider Tips: Earning With Videos
InboxDollars offers so many ways to earn extra cash on your computer, tablet, and mobile phone. Here at the office, we've been working hard to help members get paid for their everyday online activities, like playing games online, watching videos, taking online surveys, and more. 
Part of my job here is to educate our members on our features. Today I'm focusing on our Videos feature, which members tell us is one of their favorite ways to earn. 
InboxDollars Videos pays you cash to watch free content from our partners. You can watch short video clips about health, beauty, sports, and more and earn $0.01-$0.04 per playlist. Check out our YouTube video to see what this looks like.
Recently, we've gotten some questions from our members about how this feature works, so I compiled some answers below. If you're curious as well, check them out:
Videos don't load for me.
Make sure your browser is set to allow pop ups. There's usually an icon in your address bar that you can click to toggle your pop up blocker. It will need to be set to something like "Always show pop ups from InboxDollars" for you to be able to watch videos. 
I get an error that says "Something has occurred".
This usually means it's a temporary thing. Videos are one of our most popular features on the site, so sometimes we run out of video inventory. Check back the next day for updated inventory to get your free cash.
I used to only have 5 or 6 videos to watch, now I have more. Why?
If your videos playlist has gotten longer, it's because it's worth more money. With a longer playlist, you could earn double the cash you earned from a shorter playlist. Remember, video inventory varies so sometimes these playlists are shorter and sometimes they're longer. There are a lot of factors to this, so just keep watching and it will pay off. 
Can I watch videos on my smartphone?
Yes! Open your InboxDollars app, then tap into Videos from the button on the bottom menu. Videos are currently only available through the InboxDollars app for Android members.
Can I just hit play and then walk away?
Nope. You do need to engage with the videos to earn from them, and besides, what's the harm in kicking back and watching beauty, health, and sports videos? Make sure to follow any prompts on the screen to keep watching video playlists and earn your free cash. 
What do our members think of this feature?
We recently held a contest through our Facebook page where members received prizes for watching InboxDollars Videos. Here's what these members have to say about this feature:
"I have been with you guys since 2017 and I've made over $1000. Easy money, I love watching the videos while I get dressed for work in the morning and on my breaks at work. In the evening I love playing the games (my favorite is Word Wipe), it helps me unwind after a long day. Thank you InboxDollars for the extra money you put in my pocket."
-Angela Reyes (member since 2016)
"The videos on InboxDollars are interesting and are the easiest way to earn cash. They're my favorite. I watch them whenever I get the chance."
-Huyen Vu (member since 2019)

"The earning opportunity that Videos provides is so much higher and easier than TV was. In about 3 months, I earned $36 with Scratch & Win (which included TV, Games, and survey Spins), but in the last 5 weeks, I have earned over $50 just from Videos! InboxDollars Videos = free easy money!"
-Catherine Johnson (member since 2013)
"Watching videos on InboxDollars is a very simple way to earn instant cash while I work home. If you have an Android phone, install the InboxDollars app and start watching videos."
-Sang mi Han (member since 2012)
"Videos are a good distraction while doing other things and the cash is MUCH better than the scratchers."
-Randy Nelson (member since 2009)
"I have been a member for over 10 years and I really enjoy watching the videos on InboxDollars, and especially the cash rewards that I receive from them! This is the easiest way of making money that I have experienced on here."
-Charles Webb (member since 2009)
Most offer earnings will be credited to the member's InboxDollars® account within a few business days of offer completion. Some offers may credit immediately, while others may take up to 30 days to credit. Members should read and comply with all requirements of an offer to ensure timely credit.
InboxDollars® credits members for completing offers based on information we receive from our Advertisers. Thusly, the Advertiser has the final say in whether or not a member is credited for completing an offer. For more information, please read full terms of CASH OFFER CREDITING.