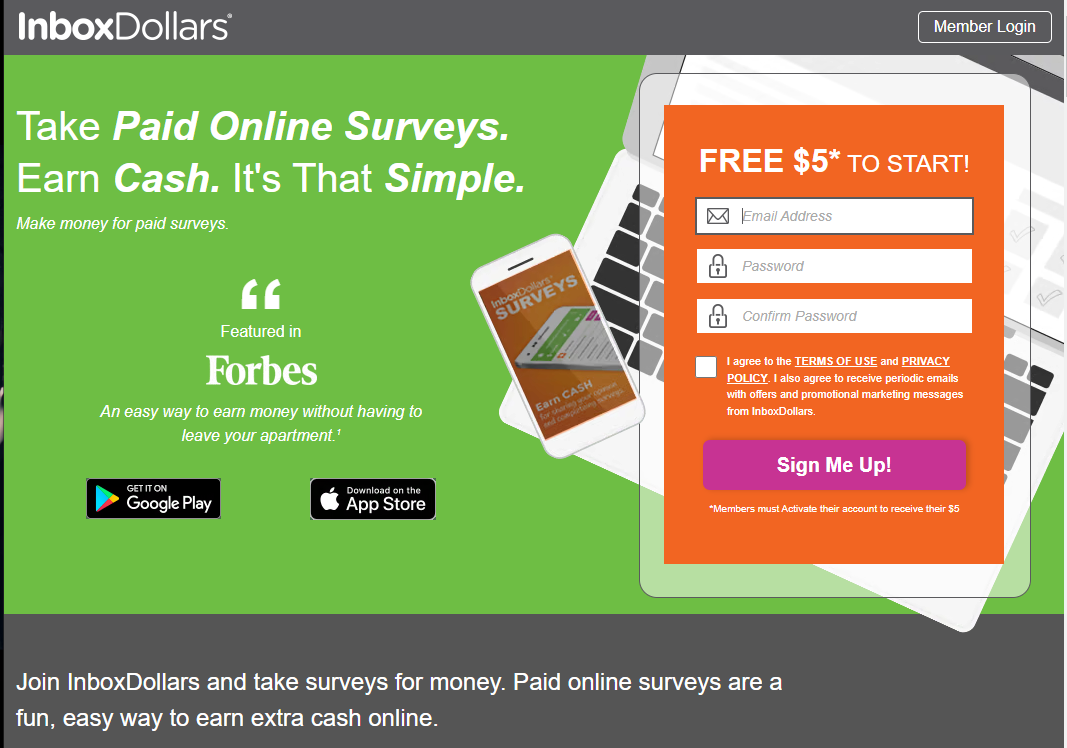 Is Inbox Dollars Legit?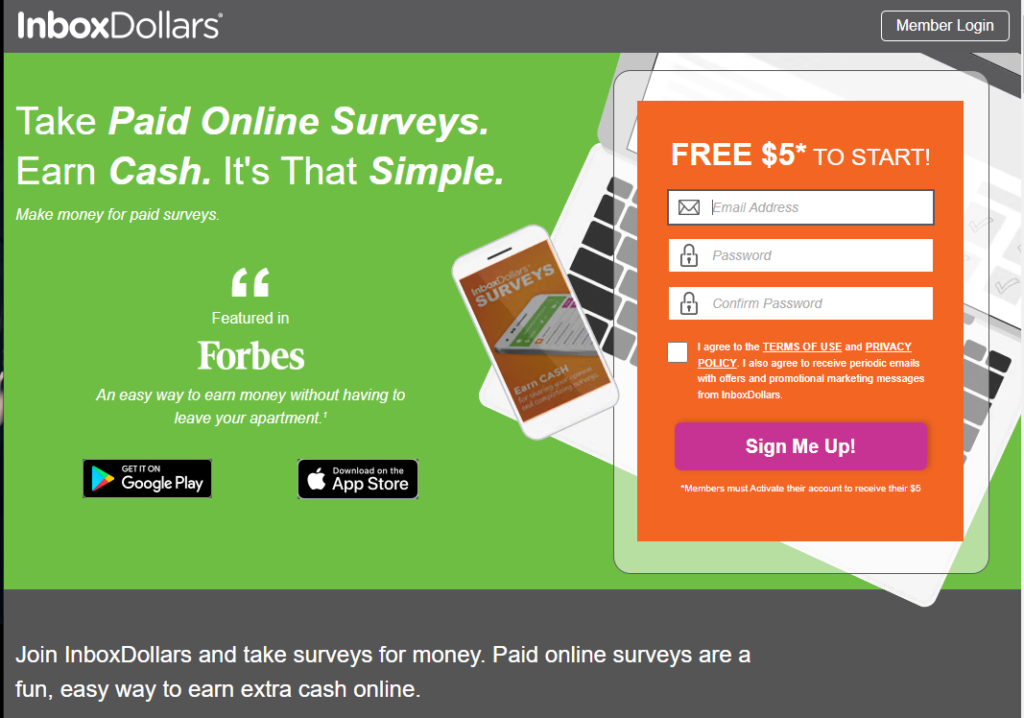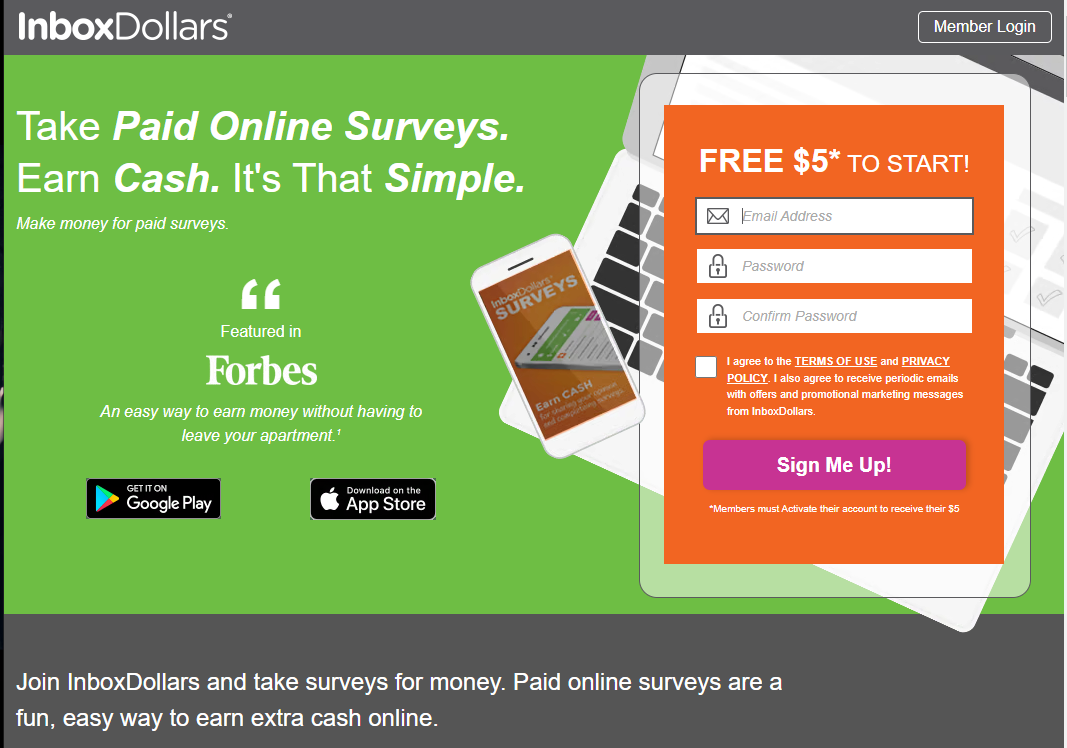 Because there are so many survey sites to choose from, it can become overwhelming. Luckily there are legit sites like InboxDollars. While InboxDollars and other survey sites will not make you rich overnight, you can definitely earn some extra cash by taking online surveys without being worried that your personal information. InboxDollars stores it securely and confidentially.
InboxDollars pays you for taking surveys, playing games, and other tasks. It is easy money, relaxing, and can be fun as well. Keep reading to find out more ways to earn extra money online with the Inbox Dollar website.
Does InboxDollars pay real money?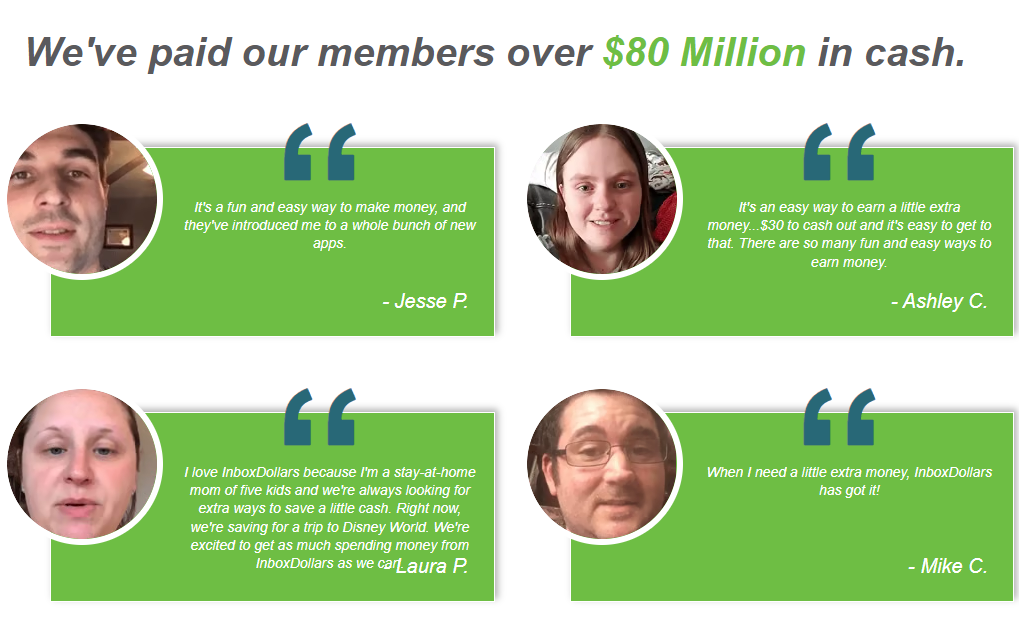 Yes! Since 2000, InboxDollars has paid members over $80 million in cash rewards. Whether you earn a few dollars or a few hundred dollars, InboxDollars will pay you your earnings in cash, gift card, PayPal, or other prize choose.
Is InboxDollars Legit?
Yes, the InboxDollars site is definitely as legit as any rewards and survey site you'll find. Complete surveys on a variety of consumer topics and other online activities to earn cash rewards.
Other InboxDollars features include:
Cash back shopping. Shop online at over 1,000 merchants and earn cash back rebates.
Free samples.
Paid emails.
Scratch-offs and other games that allow you to win cash prizes.
A referral program - earn money for earning money with your friends.
Additional online tasks to let you make easy cash.
Is InboxDollars a safe app?
Inbox Dollars is very safe. The Android version, available on The Google Play Store has over 5 million downloads at this time. The iOS version is currently rated #192 in Lifestyle and has a 4.5-star rating.
The app clearly lists what type of data it collects and how the data is used. Personal information is encrypted and all data can be deleted upon request. You can also change the way that data is collected and stored on your own device by changing the settings. Doing this may affect how well the InboxDollars app will work for you and may prevent you from getting credit for some actions.
Before you can start filling surveys out, you will have to do what is called a screener survey. None of the data from those pre-surveys will be stored for any reason. This is why you will have to add this information before every survey continually. It is a safety/privacy feature to protect you.
You are also allowed to opt out of data collection but again, doing so will prevent you from getting as many survey options, may keep you from earning cashback on some purchases, and will not allow you to use some of the website or app's features.
How much can you make with InboxDollars?
The amount of money you can make at your own pace with Inbox Dollars depends on many factors. The more money-making options you use, the more money you will make in less time. That said, remember that some of the surveys only pay a few cents at a time. You can do many surveys and only end up making a few dollars per day or you could do a few surveys while waiting for the higher-paying ones to become available and focus on other tasks.
Like other rewards sites, you can earn cashback on online purchases with Inbox Dollars. The easiest way to do this is to install the browser extension called "The Billy Button". The Billy Button will alert you to new survey opportunities plus discounts, coupons, or cashback offers on every participating site that you visit.
Inbox Dollars is different from some cashback sites in that you can find ways to save money while shopping in-store as well. You can earn money by printing coupons that you can use to buy everyday things or to finally try out that new ice cream flavor that keeps calling your name.
How do I cash out on InboxDollars?
To cash out on InboxDollars for the first time, you must have at least $15 available in your account. You can cash out at $10 for every other payout request. You can make your choice of payment type on the Request Payment Page. There are gift cards, prepaid debit cards including a prepaid Visa card, and Paypal cash options to choose from.
Once you have selected the type of payment you would like, you will follow the steps for redeeming it provided. Payment may take as little as 3 days or up to 19 days to be completed depending on the type of payment.
Gift cards are the quickest and easiest and are usually in your email within three days of being requested. All available gift cards are digital only. Plastic cards are not an option as a reward. There are several denominations available for most gift cards. You can search the options by company name, type, or by amount.
To request payment by Paypal you must have a verified Paypal account. This means that your Paypal account is linked to either a bank account or a bank card.
Does Inbox Dollars require a phone number?
Yes, you will need a valid phone number when you join Inbox Dollars. The number will need to be issued by a major carrier and cannot be a Skype or other alternative phone number. Landline numbers also cannot be used as the process sends a numeric code that must be entered when requested.
The phone number is needed to verify your identity when you sign up for a new account. There may be other times that the phone number will be used to protect your account. Each time, the system will send a code that must be entered before an action can be completed. You may also need to verify this way when you request a payout.
Each account holder can only have one phone number in the system. Numbers can be updated at any time.
How do I get my $5 bonus on Inbox Dollars?
To get your $5 bonus with Inbox Dollars, join for free and confirm your account. Once your account has been confirmed, you will be awarded the signup bonus of $5 plus you can start taking surveys to earn as much money as you would like.
Start with the profile surveys, and your first paid email, watch videos about how the site works and how to get the most out of it, plus participate in any number of the offers that are available and you can earn $30 or even more on day one.
Once you start earning, you can post your referral link to your social media accounts to earn even more. Did you know that when people join Inbox Dollars through your referral link you get a percentage of what they earn too?
How do I join InboxDollars?
Joining InboxDollars is super simple and can be done on the website, the app, or through a referral link. You need to be at least 18 years old at the time of your registration with a valid email address and phone number. You should also have a verified Paypal account if you want to earn money that way. If you do not currently have a Paypal account, you can get one before earning the required $15 for a first payment request or you can choose to get paid with gift cards instead.
There are several ways that you can earn real cash. To recap they are:
Taking surveys. Surveys can vary by length and topic. Pay is determined by the length of the survey and by the partner companies themselves.
Watching videos. Each video is around 30 seconds long and may pay out only a few cents at a time but you can watch and do other things at the same time so it is like earning free money.
Playing games. To earn money, you will download the game you are interested in and then play for a set amount of time and/or reach a specific level. Requirements for earning maximum points will be listed in the description of the game. Information about the game itself will also be included. Games include multi-player, single-player, roleplaying, puzzle, and word games.
Earn scratch and win cards. As you complete tasks or play other games, your progress on the Scratch & Win bar will move. Once you unlock a card, you "scratch" it to see if you have won the stated cash prize.
Final Thoughts on Inbox Dollars
InboxDollars does just what it claims to do. You will get paid for your time and efforts but you will not get rich. As part of a larger, legit company, InboxDollars provides several ways to make fast money without a lot of time or effort. Taking online surveys can be a relaxing way to unwind but also provides a valuable service to the survey provider at the same time.
Inbox Dollars is one of the best survey sites in terms of service, transparency, and opportunities offered. Even if you never qualify for any of the higher-paying online surveys, you can still earn a few dollars per day in other ways. Don't forget the cash rewards that you can get from shopping at your favorite stores and the coupons that you can clip, use, and be rewarded for as well.
Most offer earnings will be credited to the member's InboxDollars® account within a few business days of offer completion. Some offers may credit immediately, while others may take up to 30 days to credit. Members should read and comply with all requirements of an offer to ensure timely credit.
InboxDollars® credits members for completing offers based on information we receive from our Advertisers. Thusly, the Advertiser has the final say in whether or not a member is credited for completing an offer. For more information, please read full terms of CASH OFFER CREDITING.