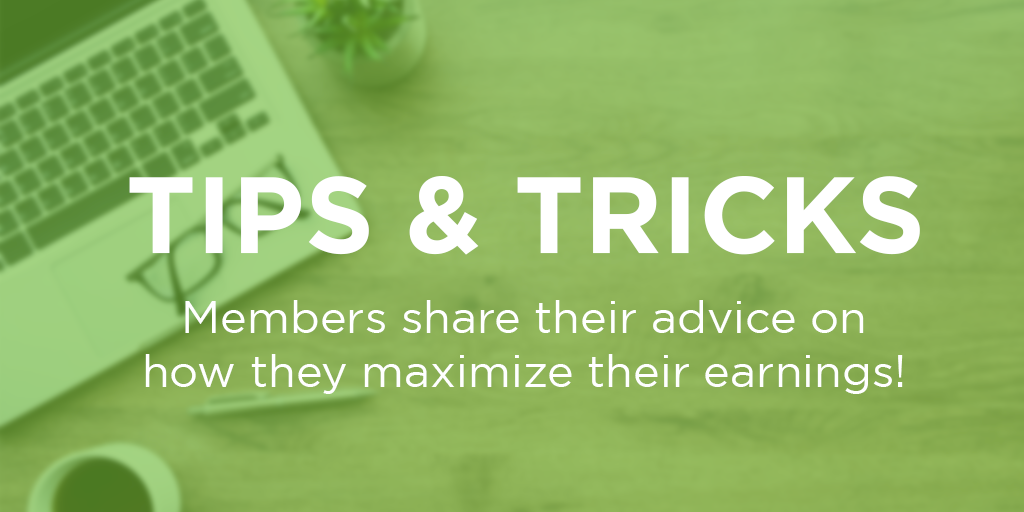 More Tips From Your Fellow Members
Here's your weekly tips & tricks from your fellow members! These members have taken the time to share with us how they use their time on InboxDollars to earn the most everyday. We hope some of these tips & tricks will help you navigate through our site better and help you find a more efficient way to earn! Read more tips on our Facebook page.
Welcome new members and for those who have stuck with us for some time, thank you for being wonderful members.
Genesis Stewart says:

My routine is 1.) Answer the daily question, 2.) Watch a few videos while I fix breakfast/ change kids, Play a few games to earn extra money, then check on Facebook to see if they have a Winit code, and look at what offers they have available and do a few surveys. But my favorite feature is playing games while I earn money. So far I have earned over $50+ in the month I have been playing.

Idalis Oney says:
Surveys, surveys, surveys! I can't say it enough! Do as many as possible and be honest when taking them, more of a chance of getting better surveys and making money. I also enjoy the search for a quick boost to get my scratch and win 
 I'm a stay at home Mom and it's just nice doing some surveys and playing some games for some extra cash!
Sara Kleinknecht says:
The first thing I do every morning is open my app and go through my daily list, play games, watch videos and participate in as many Inbox Dollars activities as possible. I also go on Facebook to Inbox Dollars and read all the new posts and participate in all of them. Inbox Dollars is so much fun, I really enjoy it!

Emmalee Johnston says:
I always attempt to complete the daily activities. And then I spend my spare time watching the videos and playing games. Also, I always use the search option. It helps to earn more chances to scratch and win!
Jennifer Loree Wilson says:
Word Wipe is my absolute favorite feature on Inbox Dollars. I check Inbox Dollars as I drink my morning coffee and scan for surveys and new offers several times a day. Most of the time however, I'm wiping words in the arcade. I've maxed out arcade earnings a few times! 
Veronica Fanfarillo:
I start everyday here on the Facebook page and interact with all the contests and posts each morning. Then I make sure I check in via my phone as that tracks me and gives me a daily point. Followed by surveys, search, paid emails and lastly games.
Most offer earnings will be credited to the member's InboxDollars® account within a few business days of offer completion. Some offers may credit immediately, while others may take up to 30 days to credit. Members should read and comply with all requirements of an offer to ensure timely credit.
InboxDollars® credits members for completing offers based on information we receive from our Advertisers. Thusly, the Advertiser has the final say in whether or not a member is credited for completing an offer. For more information, please read full terms of CASH OFFER CREDITING.