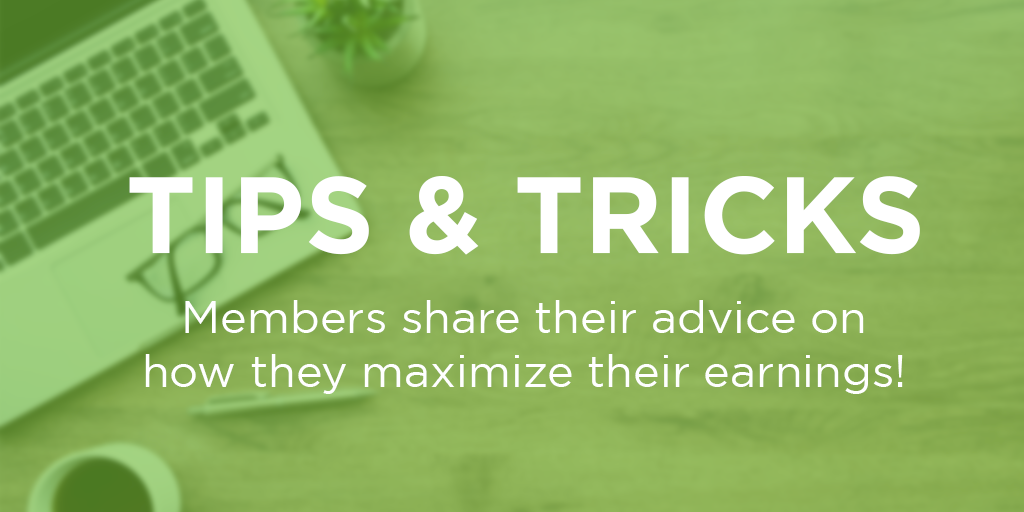 More Tips From Your Fellow Members
Here's your weekly tips & tricks from your fellow members! These members have taken the time to share with us how they use their time on InboxDollars to earn the most everyday. We hope some of these tips & tricks will help you navigate through our site better and help you find a more efficient way to earn! Read more tips on our Facebook page.
Welcome new members and for those who have stuck with us for some time, thank you for being wonderful members.


Kristy McKeown Townsend says:
"My favorite feature is the learn and earn question of the day! My children like to guess as well!"
Katie Setzer says:
"Search engine, videos and I get paid to do it. Thanks InboxDollars there's a lot more ways but that's my go to favorite. You learn a lot."
Mica Wallace says:
"Be very consistent complete your daily goals and also go to offers on the App and go to play time and play the games some of them are a few cents but if you play for the minutes indicated it will help you reach your daily goal I play the panda pop game and sometimes along with the other goals I have been meeting my daily goal."
Mary Jo Starnes says:
"I've been with InboxDollars for a year now and I have a Daily Routine...Wake up, Learn & Earn!! 
It's the 1st step to my Daily List/Goal...some other activities include Emails, Web Searches, #Winitcode, Submit 'Magic Receipts', play Arcade games and then "Scratch n Sniff" lol (Scratch Card Progress) After completing the 'List', I move on to the playtime feature to continue working on my 'Goal'. You'll be surprised how fast you can build up on a rainy day with just 30 minutes. Thank you, InboxDollars!"

Suzanne Smith says:
"I try to use inbox for lots of searches each day as it's an easy way to move the bar along doing something I'm going to be doing anyway. I love seeing that bar move closer to my goals and it's an easy way to make some cash. I have my routines every day and gradually you earn!"
Norma Fernandez says:
"I start every morning doing the learn and earn questions and word wide is my major addiction- can do it all day and feelI am challenging my brain.And honestly i rather make some money even if just pennies than randomly looking at social media.Love inboxDollars!"
Zelma Johnson says:
I too, love playing "Word Wipe"! Do what you can when you can and enjoy small victories. It's not a job. Go at your own pace and enjoy it."
Lay Dee says:
"My tip is to complete the daily list , daily goal, the PLAYTIME, magic receipts, searches, and survey. Lately, I have been getting 1.00-2.00 surveys and so far I gotten over $40 this month!!! All of it adds up!"
Most offer earnings will be credited to the member's InboxDollars® account within a few business days of offer completion. Some offers may credit immediately, while others may take up to 30 days to credit. Members should read and comply with all requirements of an offer to ensure timely credit.
InboxDollars® credits members for completing offers based on information we receive from our Advertisers. Thusly, the Advertiser has the final say in whether or not a member is credited for completing an offer. For more information, please read full terms of CASH OFFER CREDITING.