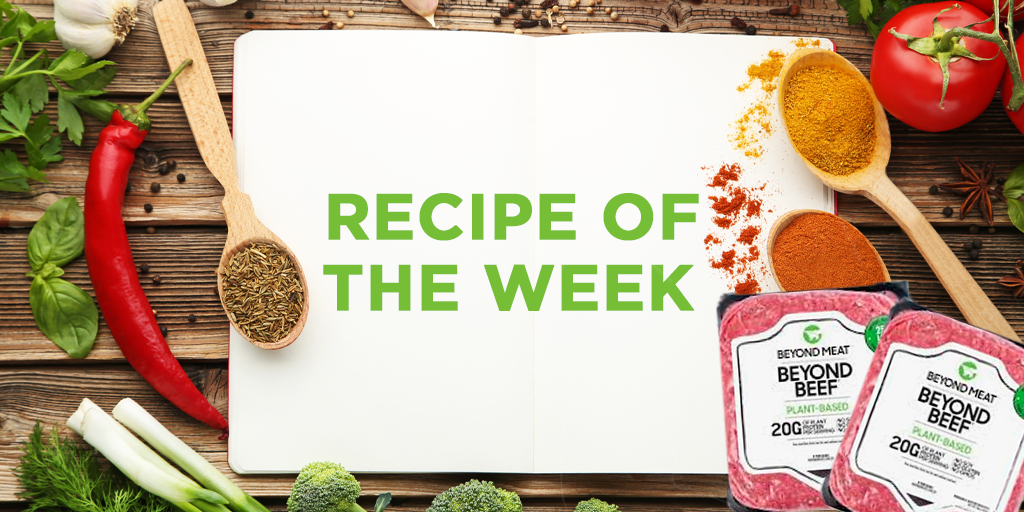 Recipe of the Week: Classic Vegan Meatloaf (made with Beyond Beef® Plant-Based)
For this week's Recipe of the Week, we'd like to feature something different, something for our vegan (and non-vegan if you are up for somethi=ng new!) audience. This Vegan Meatloaf from The Veganatlas has got us drooling and we want to share it with you! The star of this recipe is Beyond Beef® and you can add it to your Shopping List. Earn $0.25 cash back and head to your local store!
Ingredients:
1 tablespoon olive oil
1 medium onion, very finely chopped
1/2 medium bell pepper, finely chopped
2 to 3 cloves garlic, minced
16-ounce package Beyond Meat's Beyond Beef Plant-Based Ground (or see red bean and walnut alternative in Notes)
1 cup tomato sauce
2 tablespoons maple syrup or agave
2 tablespoons soy sauce or tamari
1 tablespoon barbecue seasoning blend (see Note)
2 teaspoons Italian seasoning
2/3 cup quick-cooking oats (oatmeal)
1 cup fine breadcrumbs
(see Note)
Freshly ground pepper to taste

Glaze Topping (optional but highly recommended)
1/2 cup tomato sauce
1 tablespoon soy sauce or tamari
1 tablespoon maple syrup or agave
1 teaspoon barbecue seasoning blend
Instructions:
Preheat the oven to 375º F.
Heat the oil in a medium skillet. Add the onion and sauté until translucent. Add the bell pepper and garlic and continue to sauté until all are golden. 
In a mixing bowl, combine the skillet mixture with all the remaining ingredients (other than the optional glaze topping). Work together thoroughly with a large spoon or clean hands.
Transfer the mixture to an oiled 9-by-5-by 3-inch loaf pan (metal is preferable, though ceramic works, too. Glass is less desirable) and pat in. If you think your loaf pan will be sticky, line the bottom with a fitting piece of parchment. Or, if you want to be able to easily lift the loaf out of the pan, cut a piece of parchment to fit the bottom, sides, and enough to make "wings" on the side of the pan.
Cover with foil and bake for 45 minutes.
If you're using the optional glaze, combine the ingredients in a small bowl and stir together. After the initial 45 minutes of baking time, spread evenly on top of the loaf.
Whether or not you're using the glaze, bake for 20 to 30 minutes longer, uncovered, or until the loaf looks firm and you can see browning around the edges.
Remove from the oven and let the loaf stand for about 15 minutes. Loosen the loaf around the edges with a knife. Use a sharp knife to cut into 8 to 10 slices. Or if you've made parchment "wings," carefully lift out of the pan and set on an oblong serving plate before cutting.
Most offer earnings will be credited to the member's InboxDollars® account within a few business days of offer completion. Some offers may credit immediately, while others may take up to 30 days to credit. Members should read and comply with all requirements of an offer to ensure timely credit.
InboxDollars® credits members for completing offers based on information we receive from our Advertisers. Thusly, the Advertiser has the final say in whether or not a member is credited for completing an offer. For more information, please read full terms of CASH OFFER CREDITING.