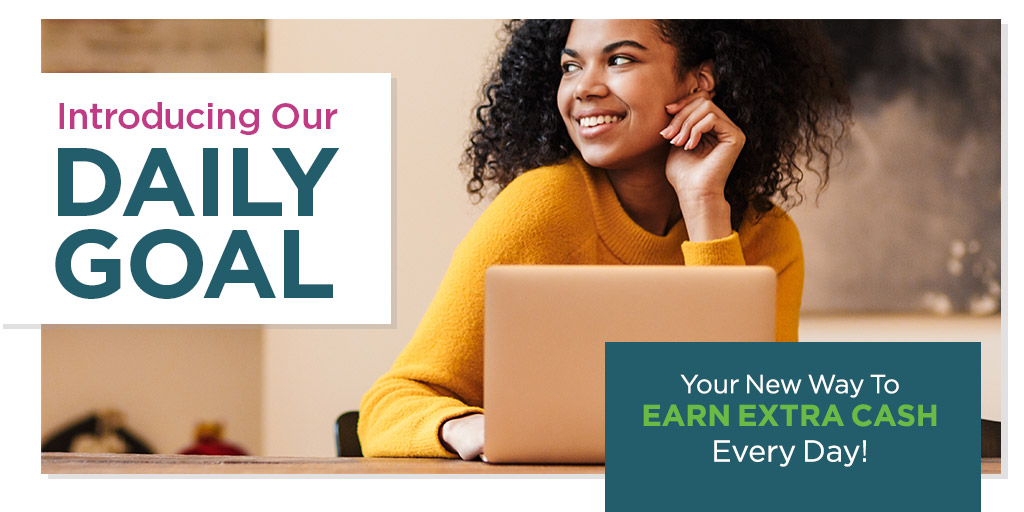 Say Hello to InboxDollars' Daily Goal
Every day at InboxDollars, we are always trying to find new ways for our members to make the most of their time and earn the most cash. Today, we want to share that we just added a new feature, Daily Goal! Right now, we are working diligently to have all our members experience this new feature. If you do not see Daily Goal on your account yet, hold on tight! You will see it on your homepage in the next coming weeks.
What is the InboxDollars Daily Goal?
Your Daily Goal is a personalized cash threshold for you to meet or exceed each day to earn a Bonus! You can find your Daily Goal in the upper right corner next to your Daily List. When you click on it, a drop down will appear.

Start your Daily Goal by completing activities on the site everyday. Most cash earning activities like, WinIt codes, Surveys, Videos, etc. can be counted towards your Daily Goal. Other activities like Coupons and Offers that can take up to 24 hours or several days to credit will not count towards your Daily Goal.

How much do I Have to Earn For my Daily Goal?
The cash amount on your Daily Goal will vary from day-to-day. You can see your Daily Goal threshold at the top left section of your Daily Goal window.
When is my Daily Goal Active?
Your goal will be active from midnight Pacific Time through 11:59 pm Pacific Time.
What do I Get for Reaching my Daily Goal?
Bonus cash! Each day you hit your goal you'll accumulate cash that will be redeemable the following month. In addition, you get additional Bonuses for completing "streaks" which range from an additional $0.10 for a 5-day streak to an additional $0.25 for completing your Daily Goal every week.
How do Streaks Work?
Streaks are the number of consecutive days you are able to complete your Daily Goal. Hit your Daily Goal on consecutive days to make a streak. Earn bonuses for 5, 7, 14, 21 and whole month streaks.
How do I Claim my Daily Goal Bonuses?
Starting the 5th of the following month, a green "Claim Your Bonus" button will be available on your Daily Goal dropdown through the 15th of the month. Just click the button to claim all the Daily Goal and streak Bonuses you earned for the prior month!
Most offer earnings will be credited to the member's InboxDollars® account within a few business days of offer completion. Some offers may credit immediately, while others may take up to 30 days to credit. Members should read and comply with all requirements of an offer to ensure timely credit.
InboxDollars® credits members for completing offers based on information we receive from our Advertisers. Thusly, the Advertiser has the final say in whether or not a member is credited for completing an offer. For more information, please read full terms of CASH OFFER CREDITING.