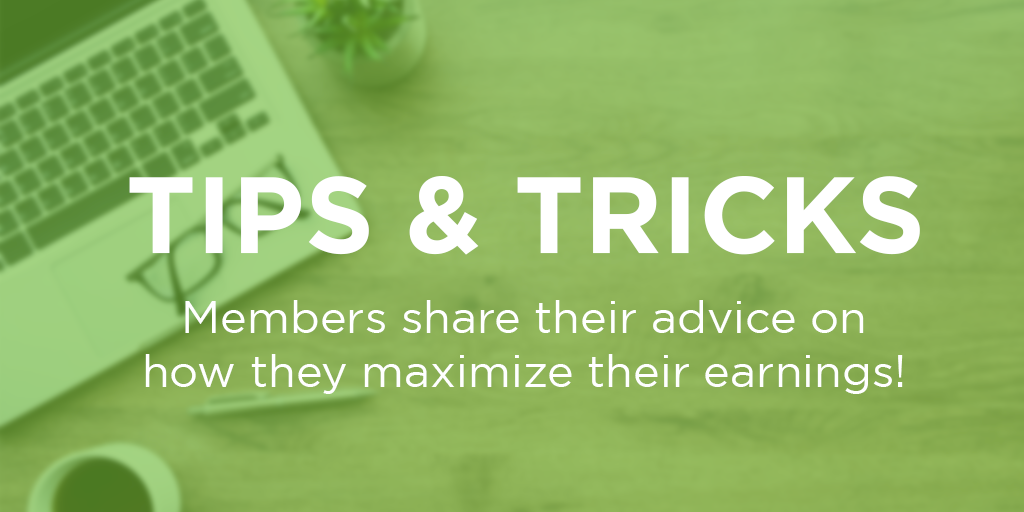 Tips From Your Fellow Members
Here's your weekly tips & tricks from your fellow members! These members have taken the time to share with us how they use their time on InboxDollars to earn the most everyday. We hope some of these tips & tricks will help you navigate through our site better and help you find a more efficient way to earn! Read more tips on our Facebook page.
Welcome new members and for those who have stuck with us for some time, thank you for being wonderful members.
Lorraine Dingus says:

Don't scratch until you get to the 3rd scratch off - remember to check FB daily for WinIT codes and play lots of games!

Dee Bridgeworth says:
I like that where it says shop that if you are in a grocery store and you click on it you may be able to scan idioms even if you are not buying them as I say every cent adds up at first it would just pop up if you were near or in the store!
Joyce Hogetvedt says:
Without surveys I would not do well. Since I am doing them again I am almost at $200! I find it fun every day but it does take time to make good money. I like that they process checks every Wednesday and I get them in a few days because they are located in Minnesota where I live.

Connie Mathes Black says:
I have to do leg exercises, due to knee replacement, before I get out of bed daily. While I'm working the leg, I do a quick run through of the daily tasks to start earning early in the day instead of just watching TV in bed.
Jason Triplett says:
While I start checking InboxDollars early in the day as part of my morning routine, it's usually before the WINIT code has been revealed. So, I set a reminder to check back every hour for it until it's been revealed and I can mark my reminder as complete.
Tammy Tergliafera says:
#TuesdayTip is to be consistent. I have a busy day, like most, so I start early with the daily lists, then move on to the bingo board when it's up, always check for win it codes, inbox, then move on to games. It doesn't take a lot of time but it actually relaxes me. In the evening I play more games and try to complete surveys. Good luck everyone.
Ashely Maisonet says:
I would say check your paid emails!! And make sure you scroll down and hit the purple button that says confirm. Opening them gives you scratch off progress so you can scratch off a ticket and win!When I first started, I didn't know what they were or anything so when I finally realized, I had a ton 
 they are my favorite thing to do
Most offer earnings will be credited to the member's InboxDollars® account within a few business days of offer completion. Some offers may credit immediately, while others may take up to 30 days to credit. Members should read and comply with all requirements of an offer to ensure timely credit.
InboxDollars® credits members for completing offers based on information we receive from our Advertisers. Thusly, the Advertiser has the final say in whether or not a member is credited for completing an offer. For more information, please read full terms of CASH OFFER CREDITING.