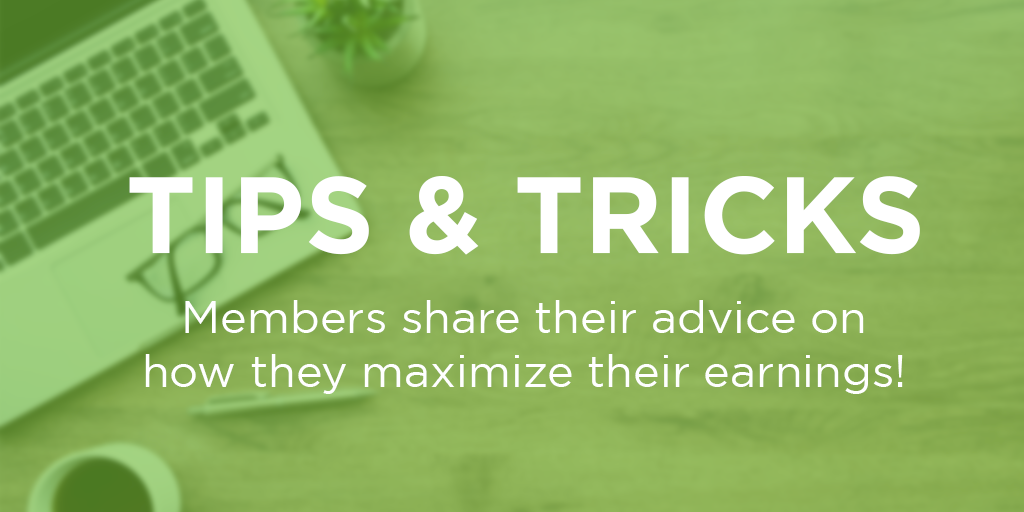 Tips & Tricks from Your Fellow Members
Here's your weekly tips & tricks from your fellow members! These members have taken the time to share with us how they use their time on InboxDollars to earn the most everyday. We hope some of these tips & tricks will help you navigate through our site better and help you find a more efficient way to earn! Read more tips on our Facebook page.
Welcome new members and for those who have stuck with us for some time, thank you for being wonderful members.
Chiemerie Orji says:
My advice is always watch the videos , play games and wait till the bar fill up to $$$ to scratch , if you do that you can earn more, do surveys, it might take some days for the points to come but it will. Look out for winit codes, and answer the daily questions that are given. Take a look at paid emails, if you can complete offers Just have fun and make some coins.
Joe Mcdowell says:
I start my inbox dollar days by reading my emails from them.. I then go to site and do a searches and watch a few videos. I answer the learn question and then hit the surveys and offers for a few hours. My goal is to earn 2.00-3.00 per day there.. So far im doing very well...
Schy Knox says:
First of all, I really love InboxDollars. I have two grade school kids, and I have returned to school after 10 years! So, budget wise, we are pretty scarce, but with InboxDollars I can make some extra money for a rainy day fund. It may seem overwhelming or too time consuming for some, but that is far from the truth is that you don't have to spend forever clicking or doing a bunch of miserable tasks. Log in when you're watching TV or relaxing with nothing else going on. Don't think too hard about it. When you do log on, make sure to check surveys often- I've found that they often change seconds within each other. Oh, one more piece of advice- Refer all your friends and share your new learned advice so they will be motivated to participate. (It's also cool because you get 30% of all earning on any referrals earning. They still get to keep their entire amount, and you get a mini treat! Way better than collecting a jar full of change!!
Suzan Roche says:
Complete the Daily Goal every day to earn the bonus. Look up the Win it code in Facebook and enter. Answer the Learn and Earn question. Then I like to do the surveys. Then I check the Magic Receipts and if they feature something you normally buy, buy it and submit your receipt. Check the fine print before you buy the product to see what stores the product must be purchased in and the deadline for submitting the receipt. Read the paid emails. And I finish playing the games.
Janet Loh says:

I made the daily list and daily goal, it really adds up when you also get a bonus in end of the month. I also go for the videos and answer few more surveys. I have my family help me with the receipts and upload whenever I have them. The magic receipt also adds up too, you just have to make a plan before you go on shopping. Whenever I shopped online I look for the shopping portals. Thanks for all the options that are available @ this site.
Most offer earnings will be credited to the member's InboxDollars® account within a few business days of offer completion. Some offers may credit immediately, while others may take up to 30 days to credit. Members should read and comply with all requirements of an offer to ensure timely credit.
InboxDollars® credits members for completing offers based on information we receive from our Advertisers. Thusly, the Advertiser has the final say in whether or not a member is credited for completing an offer. For more information, please read full terms of CASH OFFER CREDITING.