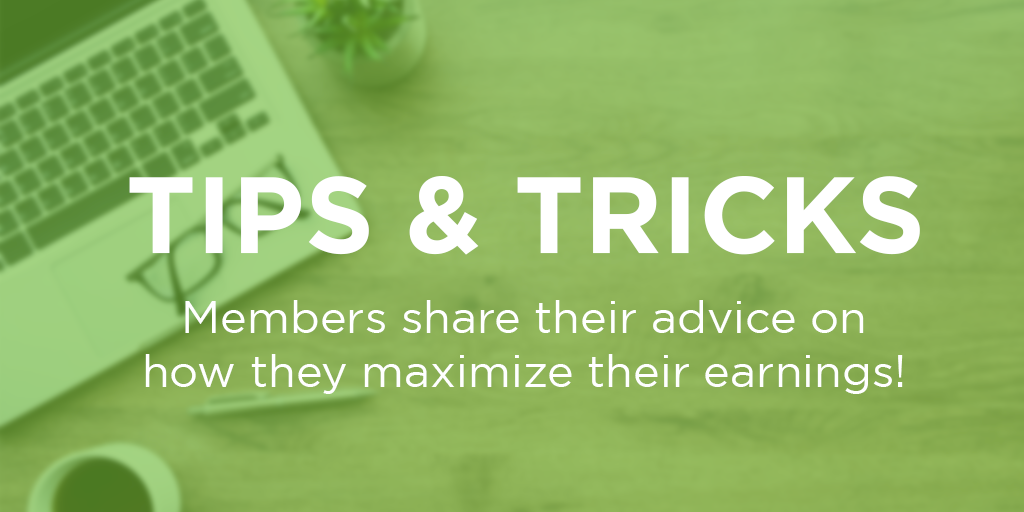 Tuesday Tips from Your Fellow Facebook Friends
Here's your weekly tips & tricks from your fellow members! These members have taken the time to share with us how they use their time on InboxDollars to earn the most everyday. We hope some of these tips & tricks will help you navigate through our site better and help you find a more efficient way to earn! Read more tips on our Facebook page.
Welcome new members and for those who have stuck with us for some time, thank you for being wonderful members.
Mary Teelon-Nichols says:

 I would recommend to new members and existing ones to create a daily routine and stick to it as much as possible. Always something new to participate in, so it is good to try new things. Check e-mails, daily activities, surveys, videos. It all adds up and it can be fun. It is also beneficial to learn from other members on how they earn. Check Facebook posts regularly.

Rebecca Marcell says:
 I play alot of the games to get to the daily goal. I did the $15 donation and finally got credited the $60 from that! Some of the deals do pay off! Go in every day and print as many coupons as possible.
Linda Swope says:
Set a daily personal "goal" amount, just for yourself, like maybe start at $2.00 per day, then achieve it by doing paid e-mails, using "search" for web browsing, & playing games!! That's $60 a month, a nice little chunk of "mad money!

Jtaff Riley says:
Stick with it, I just recently found the games!! I love it, a few minutes a day adds up and is relaxing on a stressful day. I just cashed out $100. I usually wait till Xmas and use my inboxdollars toward gifts!!!
JNine Elizabeth says:
Be consistent with the daily activities and goals, COUPONS & MAGIC RECEIPTS are amazing! Also for surveys I usually don't do anything worth less than $1 unless its a really quick one
Tina Couch says:
 I have really enjoyed completing the daily goals list. Confirming the emails is also part of my daily to do and has helped a lot in earning as well.
Chiemerie Orji says:
 I really love completing the deals, that i'm able to get coupons , i love being able to play fun engaging games and most of all i love earning money for completing surveys and learning new things from answering daily questions. I love giving these effective tips to new members on this page.
Most offer earnings will be credited to the member's InboxDollars® account within a few business days of offer completion. Some offers may credit immediately, while others may take up to 30 days to credit. Members should read and comply with all requirements of an offer to ensure timely credit.
InboxDollars® credits members for completing offers based on information we receive from our Advertisers. Thusly, the Advertiser has the final say in whether or not a member is credited for completing an offer. For more information, please read full terms of CASH OFFER CREDITING.