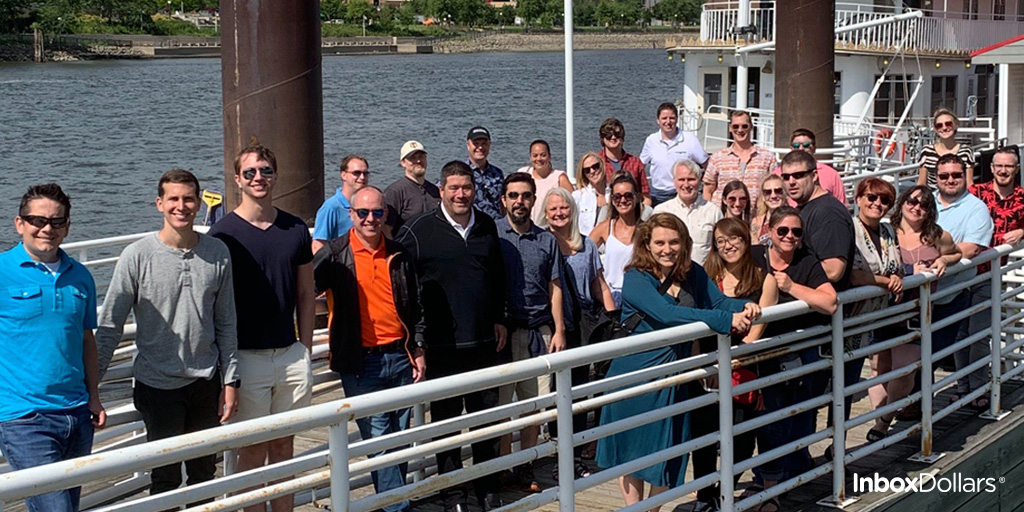 What is InboxDollars?
InboxDollars: A Quick Overview & Find Out What Members and the Media are Saying
Updated January 17, 2023
Whether you're a new member, a site veteran, or an uber-skeptic, you've probably wondered about the ins and outs of InboxDollars. What is InboxDollars? Do they really pay you cash? How does that work? How do they get paid?
As both an employee of InboxDollars and a member of InboxDollars (since 2014), I field questions like these all of the time. To help readers (and my family) understand what InboxDollars is and how it works, I've written a post.  
What is InboxDollars?
InboxDollars was founded in 2000 by Daren Cotter (the company's CEO) from his college dorm room in Minnesota. His dorm room, how cool is that? We are still based here in Minnesota, with offices just outside of St. Paul.
At InboxDollars, we connect brands (our partner companies) with consumers (our members).
Brands need lots of consumers (thousands, if not millions of them) to try new products, give feedback, take surveys, watch targeted messaging (ads), and more. Instead of trying to recruit thousands of participants several times a year, which is a lot of time and effort, it's more efficient for them to tap into our audience.
Here for our members.
While there are lots of great ways to hustle in extra cash with a side gig outside of the home, InboxDollars offers you a way to make extra cash online from inside your home. Or office or coffee shop. Wherever you have an Internet device WiFi connection.
So for consumers who don't have the ability to pick up gig work outside of the home, InboxDollars is a way for you to earn some extra cash from home. And if you are looking to pick up a gig like food delivery or shopping, you can sign up on InboxDollars and earn a cash signup bonus from us, too.
So how does InboxDollars get paid?
Each time a need activity is completed (for example, completing a survey about car brands), the brands will pay us. Then we at InboxDollars share a portion of those earnings, in cash, with you.
How much can I earn doing InboxDollars?
It varies. As a member myself, I log in several times a week. I read PaidEmails,  play games, do scratch-offs, try offers, scan grocery receipts, and take surveys. By completing a variety of earning activities, I maximize my earnings. On average though, I make anywhere from $15 to $55 a month. Most activities I complete pay anywhere from $0.02 to $5.00.
I could cash out at the $10 mark, but I prefer to hoard my earnings until I get to $100 or more and then enjoy a more substantial payout.
We have some members who will earn hundreds of dollars a month, and others who may only earn a few dollars. It depends on how active you are.
Is InboxDollars a scam?
InboxDollars is a real online rewards club that has paid over $60 million in cash, PayPal, and gift card rewards to members.
InboxDollars is not a get-rich-quick scheme. It's not a substitute for regular FT or PT employment. It's just a convenient way to earn some extra cash on the side during your downtime. You can earn with InboxDollars from your PC, tablet, or smartphone—any screen device you use to access the Internet.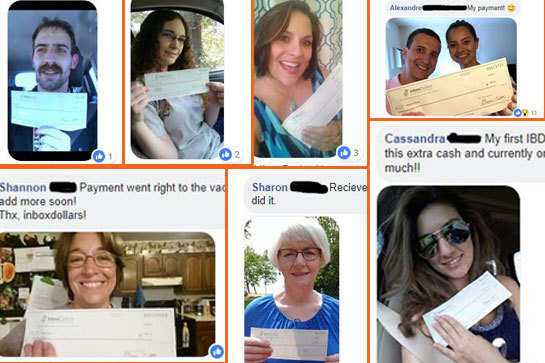 Do I have to pay money to make money on InboxDollars?
No! Absolutely not! Surveys, search, PaidEmails, prize codes, and games are always free.  And a majority of our offers are free as well.
Many of our free offers will include special deals we are able to offer our club members: car insurance quotes, freebies, samples, and similar apps or services you may be interested in, like cashback shopping apps or other survey sites.
You can sign up for these offers from InboxDollars and earn a cashback bonus, generally anywhere from $0.10 to $7.00.
We feature special discounted deals for our members. Some examples might include 50% off a first-month subscription, a free 30-day trial and then a discounted monthly rate, or $10 cash back off of a purchase of $25 or more. In addition to these deals, InboxDollars may also offer a cash bonus incentive to you for trying the discount like $2.50 cash back. Keep in mind that these bargains are offered as a special member-only deal, not a way to earn cash.
How can I earn with InboxDollars?
InboxDollars offers a number of ways to earn cash.
Daily Polls  

Downloading Apps
Completing surveys is the top way that our members earn cash with us. Generally, members who cash out monthly with InboxDollars are taking a handful of surveys or more per month.  
How do surveys work?
InboxDollars works with different market research companies that need consumers (our members) to voice their opinion on new products and services.  
On the surveys page, we will show you a menu of several surveys that you may qualify for based on your profile. We will show you the estimated amount of time it may take to complete the survey and how much you will earn for it.
With surveys, there are a few important things to keep in mind.
You won't qualify for all surveys. I found this out quickly. Most surveys will require you to answer some screener questions to see whether or not you are a good fit, and sometimes these screener questions can take a few minutes to complete.
Brands are looking for a specific demographic (i.e. women 45 or older who regularly purchase vitamins). In addition, many survey respondents will rapidly speed through surveys just to earn the reward without giving valid information. Asking screener questions enables brands to ensure they are getting quality respondents. They are looking for clear, consistent answers. After all, brands need this data to make multi-million (sometimes multi-billion) dollar decisions.
Brands only need so many survey respondents. They may only have room for 5,000 participants. When you begin a survey, it may hit its full quota of participants before you've had a chance to complete it.
Pushing through to find surveys that are a fit for you does pay off. In my personal experience,  there are days when I will attempt 3 surveys and qualify for all of them. And then there are days where I may attempt 8 or more surveys and not qualify for any. The key is patience and checking in frequently. Available surveys change all of the time!
What happens if I don't qualify for a survey?
This is a common question that members have. First off, when you aren't able to qualify for and fully complete a survey, we are bummed out. We only get paid when you do, and when you get disqualified, InboxDollars is not getting paid either. We want you to be able to qualify for and complete as many surveys as possible.
After you've been disqualified, you will be shown other surveys that may be a better fit if there are additional surveys available.
Finally, you are given an entry chance to win a prize: earn progress or XP toward a Scratch & Win or scratch-off card. Scratch at different prize tiers. The higher the tier, the larger the potential prize. At the third or highest prize tier, you can win up to $100.
What are people saying about InboxDollars?
While we get plenty of member love (we have loads of members who've been with us for 10+ years), we've also received lots of praise in the news.
InboxDollars has been featured extensively in Forbes (and named as a top 5 best app for earning money), and also made quite a few top 10 and top 20 lists for earning extra cash on the side.
How do I get started earning with InboxDollars?
It's free to sign up for InboxDollars and earn cash for doing paid surveys and other activities online. To sign up, you'll need a screen device that connects to the Internet. Most of our members use their smartphones, PC, or tablet. We are featured in the app store, but you can also sign up on the mobile web if you go to www.InboxDollars.com in your smartphone browser.
You'll need to provide an email address to set up your account, and then select a password that you want to use to access it. That's it.
There's a tutorial video you can watch and a to-do list of new member activities to help get you started, but also check out this post about how to earn your first $30 with InboxDollars.
Most offer earnings will be credited to the member's InboxDollars® account within a few business days of offer completion. Some offers may credit immediately, while others may take up to 30 days to credit. Members should read and comply with all requirements of an offer to ensure timely credit.
InboxDollars® credits members for completing offers based on information we receive from our Advertisers. Thusly, the Advertiser has the final say in whether or not a member is credited for completing an offer. For more information, please read full terms of CASH OFFER CREDITING.